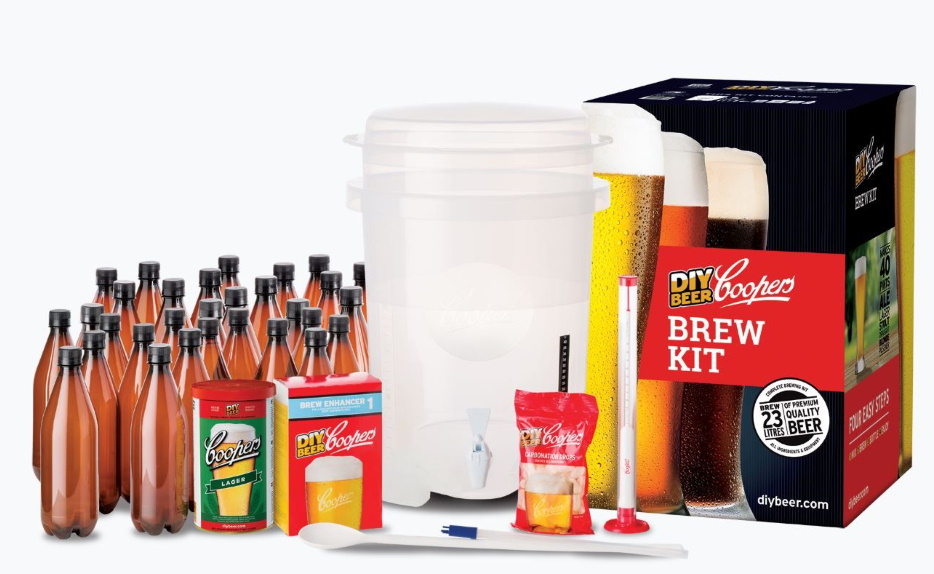 MIX, BREW, BOTTLE, ENJOY – with Coopers DIY Beer Great tasting beer, made for you, brewed by you!
The world's number one home-brew brand,  Coopers DIY Beer produces Brew Kits that  allow you to brew great tasting beer at  home in about two weeks. 
Ready to sip for just 45 cents per 375ml stubby, Coopers DIY  Beer brewing can be as simple as 'Mix, Brew, Bottle, Enjoy.'  With more than 20 different styles to brew; from lagers, IPAs,  Ales and Stouts, Coopers DIY Beer is perfect for anyone who  has ever dreamed of creating their own delicious brew. 
There are two different size kits in the range; the 23L Brew Kit  ($RRP119) and 8.5L Craft Kit (RRP$69). Both kits come with all  the equipment you need to get started, plus your first brew. 
Coopers Brewing Extracts and Ingredients are made onsite at  Coopers Brewery, using the highest quality Malts and Hops.  Each recipe is developed by Coopers Master Brewers, and  with over 150 years of brewing history they know a thing or  two about making great beer. 
Coopers DIY Beer kits and consumables are available  online at diybeer.com. The 23L Brew Kit is also available at  Dan Murphy's and Big W stores. Once a brewer has their  Kit, brewing extracts and ingredients are available from  Dan Murphy's, Big W, Woolworths and some independent  supermarkets. 
Need assistance throughout your brewing journey? Coopers  has a dedicated team of veteran brewers on hand to answer all  of your questions by phone, email or via their Facebook page. 
ABOUT COOPERS DIY BEER
Coopers began producing DIY  beer kits back in the mid 70's when  legislation was changed to allow  brewing at home. Today Coopers is  the world's number one selling brand  of DIY Beer extracts and is exported  to over 26 countries across the globe.
The Coopers DIY Brew Kits include  everything you need to make your  own great tasting beer in 4 simple steps Mix, Brew, Bottle, Enjoy!  The range of premium quality  Brewing Extracts make it possible  to produce a variety of beers from  crisp refreshing Lagers through to  hop filled IPAs or hearty Stouts. Each Brewing Extract is formulated  to create true to character beers.
Specifically developed brewing  adjuncts enhance beer quality,  increase opportunities for recipe  formulation and complete your  brewing experience.
Website:
diybeer.com/au/
Facebook: https://www.facebook.com/ CoopersDIYBeer/
Community: https://community. diybeer.com/
Hashtag: #coopersdiybeer