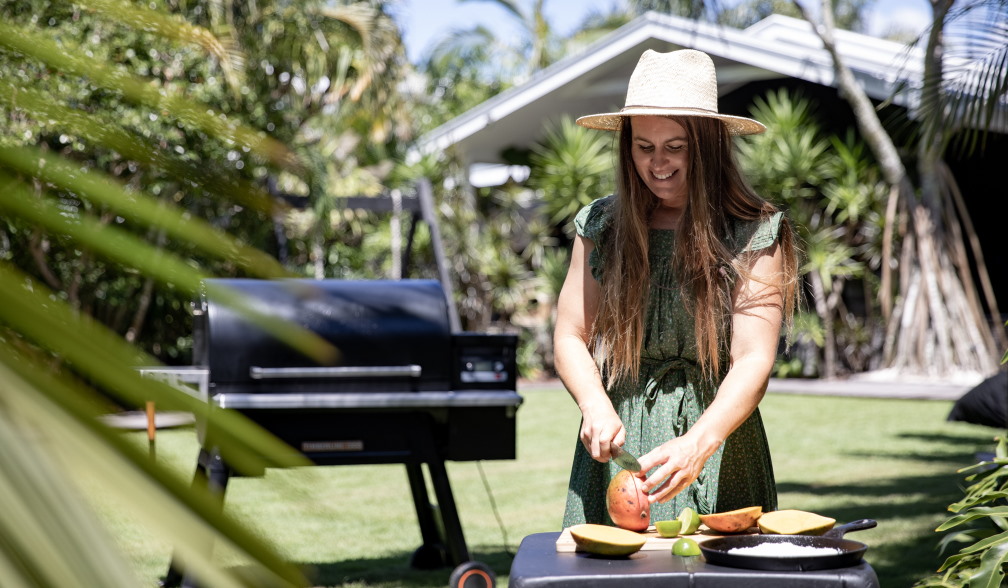 The are many ways in which Aussies like to spend their weekends! Many wish to spend the days entertaining, whilst spending quality time with friends and family.
BBQing and grilling feels rather fitting given many like to spend the day outdoors.
It's a great way to play with Aussie flavours and get everyone around the table connecting over good food. Grilling especially means you can step away and speak to your guests, leaving the BBQ to do its trusted thing.
Here, Sarah Glover, Ambassador for Traeger Grills Australia and Author of WILD: Adventure Cookbook, shares her top x8 tips for grilling and entertaining.
Remember to pre-heat the grill: Always remember to pre-heat the grill to ensure you're throwing the food on at a hot temp and it doesn't just sit there and soak. Secondly, make sure you're sticking to top quality meats. Let the meat come to room temperature before grilling, and also let it rest before serving for maximum flavour. For most Traeger products, your grill will need between 4 and 5 minutes to preheat.

Pre-prepare your menu! It will save you the stress of feeling overwhelmed on the day: Think about how much time you have and choose dishes you feel most comfortable serving. Anything that can be pre-prepared ahead of time is wonderful, taking away a level of stress and leaving you with more time to mingle with your guests. The more you can prepare, the more relaxed you will feel.

If your hosting a BBQ, pre-buy your ingredients the night before so you know what you're cooking: No one wants to subject themselves to that last-minute rush. like pre-preparing the meals, you want to make sure you have all your ingredients ready to go, so I suggest shopping the day prior and writing a very thorough list.

Make sure your grill is cleaned, full of pellets and ready to be turned on as soon as you get home: What some of you may not know, if you're new to the gilling world, is that grease and oil goes bad over time. That built up residue left on the grill goes rancid in hot weather especially, meaning next time you slap some bacon on there it will not taste good. If your BBQ got a workout over the summer just gone, I recommend taking some time prior to clean down the grill and plates, and re-grease them for a fresh feed. When looking for pellets, Traeger's pure wood pellets grant the perfect burn for the optimal wood fired flavour.

Buy extra food, and invite some friends from the service. The more the merrier (I like to say): You can never have too much food...think of the leftovers (we all know it's just as tasty the next day). I think this is a helpful tip too, in case you run into neighbours, family friends, or find out everyone is bringing their partner, just prior to the BBQ. Don't be excessive by any means, however a big breakfast spread is the best kind.

Get others involved, ask them to bring something to put on the grill or some bread etc. One way to take a little of the burden off your plate (literally and figuratively), is to ask everyone to bring or contribute something to the BBQ. I often find this is a wonderful way to not only have a super varied offering, but a great conversation starter. Traditions, family recipes, new favourite foods are all revealed, leaving no room for boredom and some very intrigued taste buds.

Don't forget the beverages! Sometimes even I've made the mistake of getting too carried away with the foodie side of things and forgetting that drinks are important too. Dependent on the time of day of course, you may want wine, beer, water, or juice for the little ones. If you like cutting corners and it's a breakfast BBQ you too are hosting, I often ask for everyone's coffee order ahead of time and have someone run down to the local cafe to get some barista quality coffee that way - genius!

Have FUN, set the table and have community around the table: Last but certainly not least, have fun with it! While sometimes the pressure can get to you, don't forget why you put your hand up to host in the first place - because you love providing for your friends and family! Set the table, curate a playlist, make it an occasion to really spend some quality time with loved ones.
ABOUT:
Sarah Glover, Author of WILD: Adventure Cookbook and Ambassador for Traeger Grills Australia: The internationally renowned chef and explorer, has travelled the world in search of epic food and wild adventures. As a classically trained chef and pastry chef, Sarah brings skill to wood-fired cooking, scaling windswept cliffs and salty stretches of beach to create simple, uncomplicated and seriously tasty food (always with a grin!). Sarah has forged a career in Bondi Beach, Tasmania and beyond. She is the author of WILD: Adventure Cookbook and owner of the Wild Kitchen, a catering company founded on extraordinary events, cooked up under the stars. Sarah is the ambassador for Traeger Grills Australia.
Traeger Grills: Traeger Grills, headquartered in Salt Lake City, has been revolutionising BBQ grilling and outdoor cooking for over 30 years with one simple, all-encompassing cooking solution. Traeger pellet grills use 100% all-natural hardwood fuel to infuse food with flavorful smoke, making food taste delicious and most of all, memorable. As the inventor of the original and world's top selling wood-fired grill, Traeger utilizes wood-fired convection power to provide 6-in-1 versatility; grill, smoke, bake, roast, braise and BBQ meals to perfection every time. For more information about Traeger Grills' complete product line, where to buy and to learn more about the wood-fired difference, visit www.traegergrills.com.au