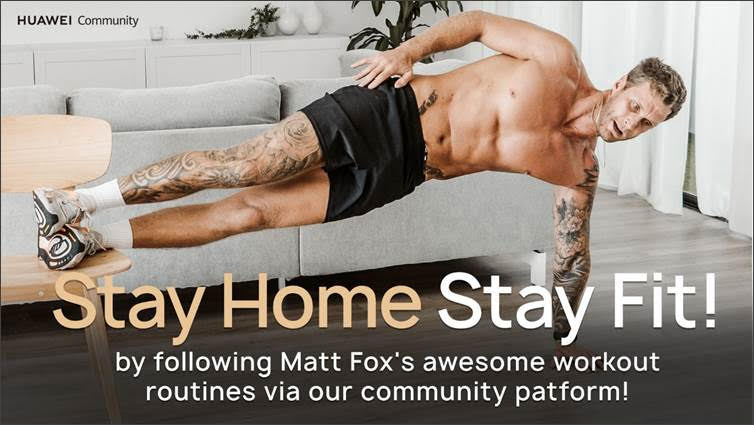 Five Tips to Kick Start Your Home Fitness Goals with Matt Fox
Let's get started with a morning routine

Morning routines are crucial to the outcome of your day, they should be habitual and puts you in a positive mindset and primes the body mentally and physically. Many of us start the day with a loud and obnoxious alarm clock and a quick check and answering emails. Collectively, we know that's wrong. A study published in the British Journal of Sports Medicine found that including a morning exercise in your routine improves attention, visual learning, and decision-making. So, set up and stick with a morning routine that you complete at the exact time and exact order.
Matt Fox shared his morning routine to help inspire others to get the best kick start to their day "My morning routine isn't as complicated as you think. It involves using the HUAWEI TruRelax on my HUAWEI Watch GT 2 Pro to help me with some breathing exercises. These exercises help me release stress and regulate my mood in the morning so I can prep a fresh mind for what's to come throughout the day."


No Excuses: There is more than one way to move
Last year, most people had to learn to live life without many things, a gym was one of them. Many learned to train with what they had (bare essentials), but so many completely fell off the wagon. In just NSW last year, 34.1% of men and 42.3% of women did not do enough exercise to keep them healthy, according to NSW Health data.
However, exercise doesn't all have to be high-impact and sweat-inducing – no matter what you choose to do, whether it's small movements or a new activity like walking or yoga, increasing your daily mobility can enhance your overall health. Even filling up a water bottle or milk carton to do some lightweight lifts to muscle-strengthen can help!
Matt suggests it's time to implement a workout anywhere, on your terms, maximise your time, transform your health and body in the process. He also always looks to Huawei for new inspiration. "When I need something new, I choose one of the 100+ work modes on the HUAWEI Watch GT 2 Pro to keep things interesting and keep my body moving such as adding new work outs to my HIIT program, trying out new yoga poses and more. Remember, movement is health, and fresh air is freedom."


Don't forget to monitor this key thing!

You can get back into your fitness regime easier than you think. You can improve every part of your body just by moving, you have the power to make the change. Australian guidelines for adults is to build up more than 150 minutes a week of moderate-intensity physical activity, that's around 30 minutes a day.
Matt suggests a key thing to note when getting back into exercising and building out your 30-minute workout plan is to monitor your blood oxygen levels. "It may sound like a complicated process, but it is quite important. You need to monitor your blood oxygen saturation, heart rate, and stress levels in real-time. It will help you proactively monitor changes in your body and better manage your health."


Don't stop, won't stop!
With nine-to-five no longer being our usual work hours, we find ourselves glued to our screens and often dealing with heavy workloads, sometimes enough to put us under pressure. As most workplaces have now adopted a work from home system, it's a little easy to get lost in our technology and sit at our desks for too long.
Matt loves using any activity reminder to help him stay on his feet. "Finding a platform that sends alerts is helpful. They there to help keep you moving, especially if you've been sitting around for an hour. This helps me keep a good balance of activity and rest throughout the day."


Ending the day with a good night's sleep
We exercise for a purpose, whether it's to improve our health, increase our muscles or lose weight. However, without sleep, all the above is lost, and we end up undermining our bodies. More than half of adult Australians are suffering from at least one chronic sleep symptom that is affecting their ability to live a healthy, happy life, according to research from the Sleep Health Foundation report. Sleep gives our body time to recover, conserve energy, and repair and build up the muscles worked during exercise.
Matt uses technology to ensure he gets the best sleep at night. "Depending on your age, do some research to find out exactly how many hours you need to rejuvenate your body. Find a platform that helps you get the sleep your body deserves. Especially one that detects when you go to sleep, shows you how well you've been sleeping and sends personalised advice on how you can improve your sleep quality."