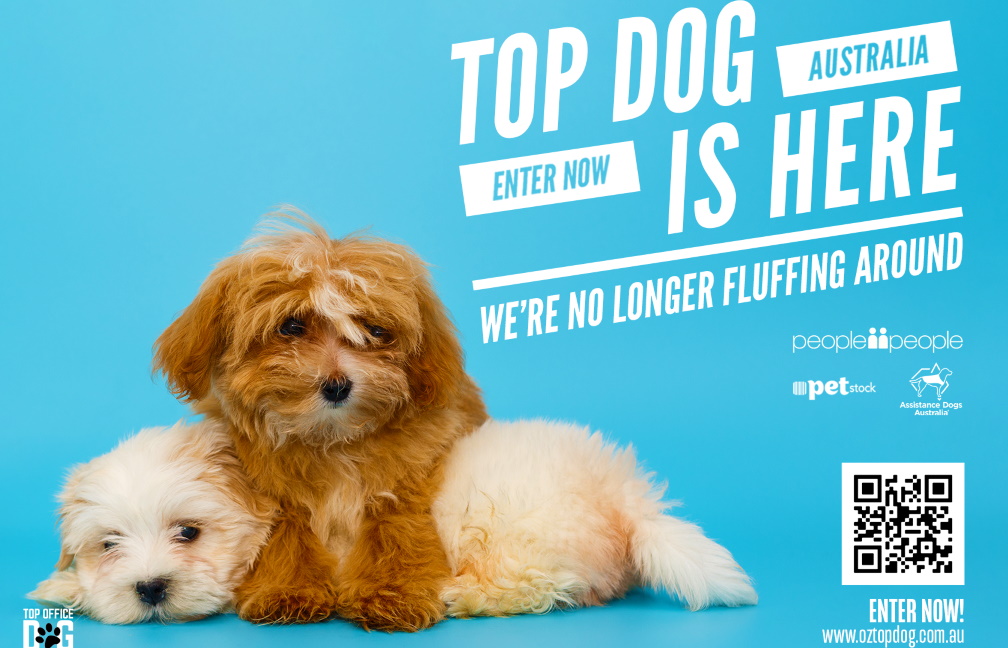 Leading recruitment company people2people is excited to announce that in partnership with PETstock, the OZTOPDOG campaign is coming to Australia for the first time this September. Following its success in New Zealand in 2020, Australians  will now have the chance to celebrate the goodest boys and girls in the country. 
A poll by the award organisers, recruitment agency people2people, found three out of four Australians working from home  during the current COVID-19 lockdowns confirmed their pooch helped their mental wellbeing. In addition, to the 614 dog  owners surveyed, 60 percent said their dog is a key reason to want to work from home (WFH). 
people2people's Group Managing Director Mark Smith says, "Our reoccurring COVID-19 lockdowns and work from home  orders are starting to take their toll on Australian workers mental health, with 7 in 10 Australian workers this month saying they were feeling more burnout than prior to COVID.  
"There is so much research out there on the benefits and impact a workplace dog can have, especially when it comes to  mental health and on those once again sharing lockdown with their WFH dog. It's a good time to introduce Australia's  OZTOPDOG competition, a campaign that has been successfully running for five years in New Zealand, celebrate the impact  Australian dogs have on peoples' lives and thank them for their continuous tail-wagging support in those difficult times,"  said Mark. 
The country's top canine colleague that demonstrates a commitment to improving the work lives of their human colleagues will be awarded the revered title of Australia's Top Office [& Home Office] Dog to one canine. Sitting alongside the Top Office  Dog will be the winners of Top Dog with a Job, Top Dog People's Choice and our brand new award Top Dog Friendly  Workplace. 
Judging will be undertaken by people2people, headline sponsor PETstock, Australian celebrity and self-confessed dog lover, Deborah Hutton, and OZTOPDOG charity Assistance Dogs Australia. This year's prize package includes a OZTOPDOG trophy  for each category winner, a $1,000 PETstock voucher and much more! 
Deborah Hutton OZTOPDOG judge says, "In these strange times of isolation, we need love around us more than ever and  the love of a dog is like no other. Our constant companion, who brings joy, laughs, listens to our woes and is always there  for a cuddle. I love the initiative behind OZTOPDOG as it gives us a chance to really see and appreciate what dogs truly bring  to our world, now more than ever. Dogs give you unconditional love and if you have that every day, life can't be that bad." 
Entries will open from the 30 August 2021 until 15 September 2021 for dogs across Australia to be nominated for this year's  awards. Entering a dog is as quick as a game of fetch. Visit oztopdog.com.au to complete the entry form and upload a photo  of your dog. Don't forget to tag @people2people.recruitment, @petstock_australia and use the hashtag #OZTOPDOG. 
The winners will be announced by people2people during the world's largest Zoom meeting attended by dogs on Tuesday,  28 September 2021. 
About people2people: 
people2people is an Australasian recruitment company built on an established reputation for providing professional and  personalised recruitment services since early 2005. At people2people recruitment, their focus is on identifying potential  today to build careers and businesses of tomorrow. Recruitment expertise includes accounting & finance, business support,  executive, government, human resources, legal, marketing & digital, property, sales, supply chain management and  technology. people2people.com.au