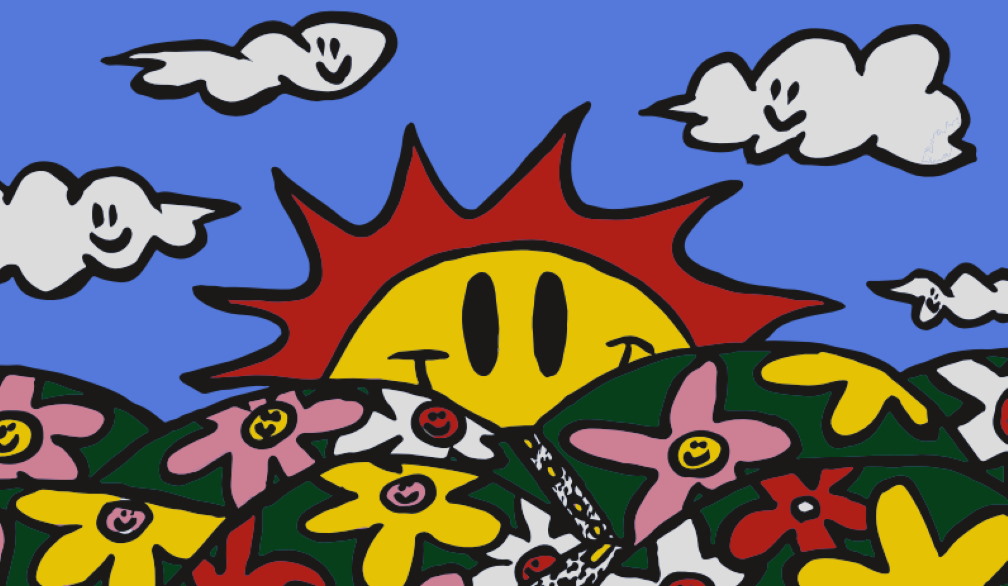 After a successful showing at aMBUSH Gallery in Sydney, Australian artist Jack Irvine's solo exhibition Simple Pleasures is heading to aMBUSH Gallery Kambri.
Opening on Thursday, 15 April this uplifting and fun show asks viewers to consider the small things in life that can easily be taken for granted, like sunshine, road trips, freedom, nature, and the enjoyment of reading and watching television.
This vibrant solo show includes over two dozen paintings (with some new additions specially for Kambri) that are full of colour and movement. Produced in a bold, animated style, the works transport the audience to multi-coloured worlds that explore what many will identify as life's daily joys.
Completed during Melbourne's lengthy lockdown in 2020, the paintings were created with a foundation of humour, sentimentality and a sense of endearment.
Jack describes the subject matters in Simple Pleasures as "Things that encapsulate positive memories throughout my life. Things that before the pandemic I lacked appreciation for, and in hindsight I've realised how amazing those times were."
Growing up in Sydney, Jack was always interested in creating art but discovered a serious passion for painting at the age of 14, when he decided to make it his career. Influenced by artists who used a lot of colour, including greats like Keith Haring, Basquiat, and Ozzie Wright (the Australian surfer and artist), Jack even found inspiration in sketches by Picasso. "It was really interesting because these sketches were so rough and you can tell it didn't take him long to do them, and I connected with the fact you don't have to spend 10 years doing one painting – it's possible to do an amazing painting in a short amount of time," he explains.
Jack has been sought out by some of the biggest breakout music acts globally to create artwork for their merch, including Billie Eilish, Troye Sivan and BENEE. He has also been an artist in residence the past two years for the perennially important Laneway Festival.
In addition to his acrylic on canvas works and limited-edition prints, visitors will be able to purchase merchandise including T-shirts and hoodies.
Simple Pleasures will also feature art that Jack created for Australian surf music and garage rock trio, Skegss, with whom he began collaborating five years ago, developing the band's visual identity alongside them.
The opening night for Simple Pleasures will be held on Thursday, 15 April from 6pm-8pm at aMBUSH Gallery Kambri (ANU Building 153, L2) with live music from DJ DOSS and complimentary drinks supplied by Capital Brewing and Lerida Wine.
Numbers are limited, so register your interest in attending the opening night here https://www.eventbrite.com.au/e/simple-pleasures-by-jack-irvine-exhibition-opening-tickets-148712391767
The exhibition runs from Friday, 16 April to Sunday 16 May from 10am-6pm weekdays and 12pm-5pm on weekends and is free of charge to the public.
Visit www.ambushgallery.com for more information, and look for aMBUSH Gallery on Facebook and Instagram for exhibition updates.

About Kambri at ANU
Kambri at ANU is located in Australia's capital city, Canberra. Their strong ties to the local area are reflected in the gifting of the name 'Kambri' by elders from the ACT's four Indigenous communities. The Kambri precinct will be known as a hub for innovation and knowledge, while also providing a welcoming space for the greater Canberra community to gather. Facilities and services include: a multi-storey medical centre; 24-hour pool and gymnasium; a culture and events building hosting theatre, concerts and functions; a unique laneway and lawn retail experience with dozens of independent food and beverage operators, plus abundant greenscapes where students, staff, families and city workers alike can relax, reflect and be inspired. Kambri's year-round calendar of events and activations will ensure it offers an engaging and eclectic environment, delivered within a village atmosphere.
About aMBUSH

aMBUSH Gallery – an initiative of Wiltshire + Dimas – is an award-winning art gallery, social enterprise and creative placemaker that thrives on operating outside the parameters of a traditional gallery. They curate and produce arts and cultural activities both in Australia and overseas, with a program of site-specific, project-based art activations stemming from a unique fusion of philanthropic and commercial impulses that engage audiences, provide sustainable futures for artists, and establish a strong presence for their partners. Their newest exhibition space at the ANU's new Kambri campus is a modern, world-class facility renowned for its focus on innovation and excellence.