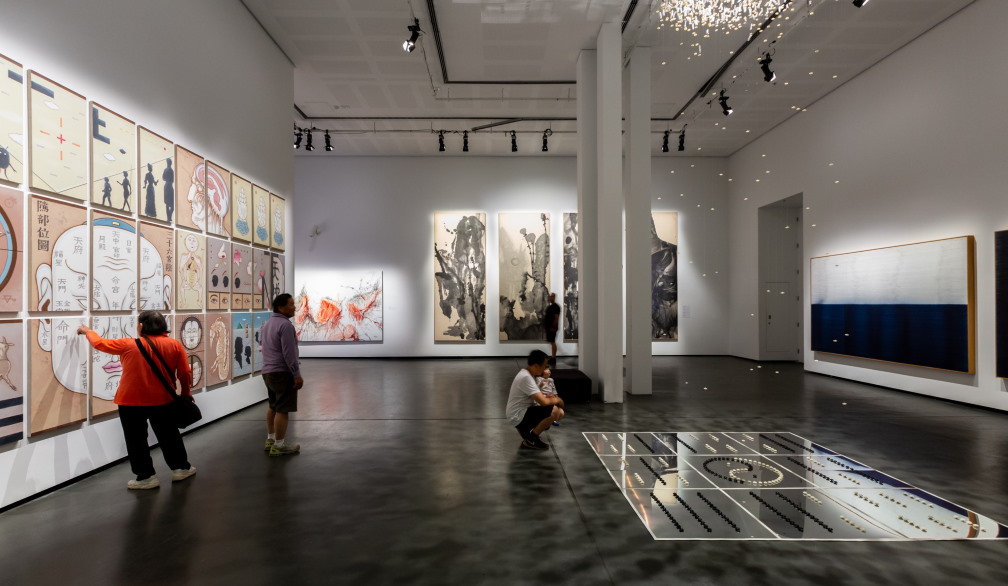 Casula Powerhouse Arts Centre today announces Sydney artist Leyla Stevens has won the 66th Blake Prize, one of Australia's longest running and most prestigious prize.
Stevens, from Petersham NSW, was selected as the winner from amongst 86 finalists. A three-person judging panel of Ramesh Mario Nithiyendran, Maud Page and Kumi Taguchi, had the difficult task of selecting the category winners from the exhibited finalists , before Stevens was announced the winner of the $35,000 cash prize at a launch event at Casula Powerhouse on Saturday 13 February.
Since 1951 The Blake Prize has engaged contemporary artists, nationally and internationally, with conversations on the wider experience of spirituality, religion, and belief. The 66th Blake Prize received a record-breaking 1,200 entries from across Australia and the world, a massive 56% increase from on the 2018 submissions.
Stevens' work, Kidung/Lament, is a three-channel video work by the Balinese Australian artist. The video focuses on traces of Bali's histories of political violence and the complex manifestations of these concealed pasts amongst human, physical and metaphysical environments.
Two other NSW artists were awarded prizes on the day. Hazelbrook resident Eddie Abd was the winner of the $6,000 acquisitive Blake Emerging Artist Prize for her work In Their Finest, a video piece that combines long exposure Victorian death portraits with the traditional textiles of Greater Syria to explore the conservation of tradition by families uprooted from ancestral lands. Zanny Begg of Bulli was awarded the Blake Established Artist Residency and Exhibition for her video work Stories of Kannagi, which looks at the impact that colonisation and civil war has had on Tamil communities living outside of Sri Lanka. The Blake Established Artist Residency prize includes a one-month residency and solo exhibition at CPAC.
CPAC Director Craig Donarski said "Not only do these winning works speak to the incredible talent we have in Australia, they are also a shining example of how the rich diversity of cultures that make up our society can provide us with unique perspectives and powerfully moving artworks. The whole exhibition is a fascinating snapshot of the state of belief now: passion, anger, ecstasy, reflection, trauma and doubt, leavened by moments of wit, humour, beauty and playfulness"
The 66th Blake Prize Exhibition is currently open for viewing at CPAC until Sunday 11 April 2021. Hailing from every Australian state and territory, the finalist exhibition features work across a range of artistic disciplines, and reflect on a diversity of spirituality, religion, and beliefs.
Artists featured in the exhibition include: Antoine Veling (North Rocks, NSW), who captured a moment of ecstasy resembling religious iconography in Mark 5:28, when Iggy Pop invited the audience on stage during a show at the Sydney Opera House. Blak Douglas (Redfern, NSW) who explores their frustration with embracing the religion of colonialism in Three Strikes and You're Out. Liam Benson (Baulkham Hills, NSW), whose large embroidery, Community Participation Embroidery, Thoughts and Prayers, was created through artist-led workshops in which participants made tributes to loved ones;  and Claire Healy and Sean Cordeiro (Blackheath, NSW), whose video work The Pilgrims focuses on Insta-tourists and our decade of self-worship.
For further information visit www.casulapowerhouse.com
Stay up to date through: www.facebook.com/casulapowerhouse
Exhibition Details
What: 66th Blake Prize Finalist Exhibition
Where: Casula Powerhouse Arts Centre
When: Saturday 13 February – Sunday 11 April 2021
Entry: FREE
MEDIA CONTACT: Original Spin P: +61 2 8065 7363 
Matt Fraser matt@originalspin.com.au M: +61 401 326 007
BLAKE PRIZE AWARD WINNERS
The 66th Blake Prize
Leyla Stevens, Kidung/Lament, 2019, 3 channel video, stereo sound
Artwork Description: 'Kidung' is a three channel video work by Australian Balinese artist Leyla Stevens. The video focuses on the spectral trace of Bali's histories of political violence and how this buried past continues to haunt present topographies. In response to an unacknowledged mass grave site from Indonesia's 1965 genocide, the artist frames a video performance – a chanted lament for the missing dead. The video draws visibility to points of erasure in the landscape, where histories of violence register as gaps, fragments and present absences.
In line with the parameters of the Blake Prize, the video focuses upon spiritual dimension of everyday phenomena. A banyan tree that lies at the site of the mass grave frames the main performance. 'Pohon beringin' (banyan trees) are considered powerful locators in Bali. They are thought of attractors of spirits. In this way, these trees are also signals in the landscape to what remains invisible. And so we can think of this particular tree as the original witness to this erased history, an archive for the unseen.
Judges Comments: The winner of the 66th Blake Prize is Balinese Australian artist Leyla Stevens for the work Kidung/Lament, 2019. It is a masterful, contemporary artwork that sits within the context of a sophisticated arts practice of a promising young artist. This powerful work is a sensitive and intimate exploration of a localised story with global resonance. Via a compelling narrative, Stevens explores the spectral traces of Bali's histories of political violence and the complex manifestations of these concealed pasts amongst human, physical and metaphysical environments.   
The work anchors the incredibly moving stories contained in the whole exhibition – stories of personal and collective tragedy that connect broadly to notions of religion and spirituality as they manifest in contemporary worlds.  Yet, it is also poignant as a poetic invitation, provoking audiences to perceive, read and listen to landscapes beyond prescribed models.  For example, Stevens' framing of Banyan trees as powerful and almost sentient cultural signifiers connects to global perspectives that consider trees to be responsive in ways humans are yet to understand. We forget and underestimate the power inanimate objects hold, when it comes to memory. It is through memory that we can access trauma, understanding and accountability. While the artist taps into a multitude of global conversations, perhaps most poignantly, the work invites us to think deeper about the tragic Aboriginal histories also embedded in the Australian landscape.
Blake Emerging Artist Prize
Eddie Abd, In Their Finest, 2020, One channel video
Artwork Description: In their Finest is a one channel video work that explores the conservation of tradition as negotiated by families uprooted from ancestral lands. Referencing long exposure Victorian death portraits and the traditional textiles of Greater Syria, In Their Finest presents the Family - dressed in the garments of its forgotten ancestors and existing on Darug and Gundungurra land. As the video unfolds the notion of tradition itself is in question, as concepts of  hierarchical structure, gender constructs and social conformity are triggered by unexpected turbulence within the Family.
Judges Comments: The winner of The Blake Emerging Artist Prize is Eddie Abd for the work In Their Finest. This highly compelling video work by an artist with distinct connections to Western Sydney, explores the fragility of maintaining tradition within families that have been uprooted from ancestral lands. A strength of this multi-layered work is its ambiguity. It provokes curiosity and a depth of engagement as we are invited to consider the processes of masking, concealing and growth in the context of migrant experiences. Curiosity is the key ingredient for learning. Curiosity is what drives us to know a person or a culture beyond our surface awareness and compels us to dig beneath the layers and masks. There is something beautifully endearing as the child comes out of the cardboard-like frames stepping out of the frame and returning to sit on their mother's lap. The white expressionless masks are a symbol of the resolution needed to face the often hard migrational conditions. Old faiths and rituals are drawn upon to knit the family unit.  As per the conditions of this prize, this work will enter the permanent collection of Casula Powerhouse. With potential to be contextualised in a number of dynamic ways, we believe this work will engage diverse audiences and communities over time.
The Blake Established Artist Residency and Exhibition
Zanny Begg, Stories of Kannagi, 2020, Video
Artwork Description: Stories of Kannagi is a new film project by Zanny Begg, it was initiated by Jiva Parthipan and created in collaboration with members of the Tamil community in Western Sydney. The film reimagines the 2000 year old story of Kannagi, a young woman who is forced into exile by the misdeeds of her husband, yet defends him against injustice in their new homeland. When her husband is executed for a crime he did not commit Kannagi confronts the King – proving his innocence through a powerful speech.  Stories of Kannagi features three Tamil writers based in Australia, Niromi de Soyza, Shankari Chandaran and Srisha Sritharan, who also use language as a form of resistance. Niromi de Soyza is the author of Tamil Tigress, a memoir of her experiences as a child soldier in the Sri Lankan civil war; Shankari Chandran is the author of Song of the Sun God a three generation saga across Sri Lanka and Australia; and Srisha Sritharan is a NSW Slam Poet Champion. Stories of Kannagi explores the impact of colonisation and civil war has had on Tami communities living outside of Sri Lanka by looking at interrelated issues of love, language and story telling.
Judges Comments: The winner of The Blake Established Artist Residency and Exhibition is Zanny Begg for the work Stories of Kannagi. This work, centred around the perspectives of three Sri Lankan, Tamil women is a luscious and celebratory portrayal of complex intersections between gender and evolving tradition. Here Begg has created a poignant portrait through the minds and words of three intergenerational women from a relatively unknown minority group. Issues around belief systems, bravery and cultural transpositions are interwoven with dramatized oral histories and vibrant, compelling bursts of speech by the three women. It is through intimate storytelling that we can truly understand the impact - and the overwhelming power of intergenerational impact - of displacement. Understanding storytelling threads through generations allows us to reflect on the ongoing impact of our own behaviour. This significant Australian artist is known for the sensitivity and rigour embedded in her processes when working with various community groups and it is anticipated that the artists will greatly benefit from the strong, diverse community groups around the Casula area.
EDITORS NOTES
Casula Powerhouse 
Located on the banks of the Georges River, the Casula Powerhouse is a multi-disciplinary arts centre. Showcasing six galleries and featuring a range of permanent and temporary exhibitions, the Casula Powerhouse is a premier art space in South West Sydney. Boasting a 321-seat theatre, Casula Powerhouse plays host to a range of theatre and cinematic productions each year. 
Liverpool City Council 
Located in South West Sydney, Liverpool City Council governs 42 suburbs with residents from a range of different cultures and ethnic backgrounds. The Council is dedicated to supporting the community by providing high levels of facilities and resources and to establish Liverpool as "the vibrant regional city of opportunity, prosperity and diversity." 
The Blake Prize
Since 2016 Casula Powerhouse Arts Centre (CPAC) has conducted The Blake Prize as a biennial event, ensuring the future of this landmark prize. CPAC will maintain the guiding principles of The Blake Prize, continuing to engage contemporary artists, both nationally and internationally, in conversations concerning faith, spirituality, religion, hope, humanity, social justice, belief and non – belief. The Blake Prize presents an aesthetic means of exploring the wider experience of spirituality and all this may entail through the visionary imagining of contemporary artists.