With Christmas coming up, the Andes Earbuds would be a popular gift. Almost everyone has a device that is compatible with earbuds and all users will enjoy the convenience and listening excellence that quality audio equipment offers.
Here at Men.com.au our team tested a review set. The verdict - They do their job very well ! 7.5 out of 10
We didn't get a chance to use them at a sporting event, where they would be ideal for listening to coverage but they were used extensively while travelling and exercising.
The noise cancelling feature is really impressive. Blocking out noise makes a huge difference when on an aircraft. Turning it on an off again to listen to the difference was really cool.
The audio was very clear when listening to music with good quality on phone calls. We think the microphone is a bit average but that is not a big issue as listening is the main game with earbuds.
The out of the box ear tips were slightly too big for me but it was easy to change to the slightly smaller size that came in the box.
They feature fast charging and they hold their charge for a long time. I had every confidence that I could go on long walks and not worry about them running out of battery charge.
They are quick and easy to connect to the small ( easy to pack ) charging pod.
Our team members each consider themselves to be a bit of a headphone - earphone connoisseur and we all certainly recommend this product.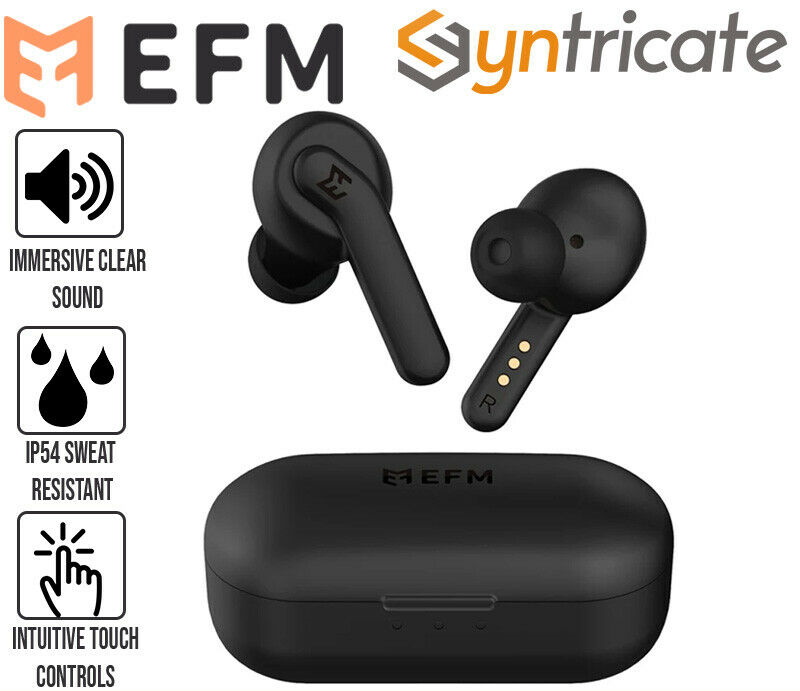 Featuring new Active Noise Cancelling (ANC) technology, the EFM® TWS Andes Earbuds allows you to talk or listen to music without environmental noise disturbances. The earbuds also feature the latest in touch control technology, 7mm dynamic drivers with rich bass and balanced HD audio output as well as a new stereo calling feature - allowing the earbuds to recognize your commands and take calls and control functions with one simple tap.
Description
Boasting the most up-to-the-minute Dual Mic Active Noise Cancelling (ANC), the EFM TWS Andes Earbuds offer complete peace as well as peace of mind. The TWS Andes are sweat and dust-resistant IP54 rated and equipped with Touch Control technology, to ensure a one-tap user experience from home to the office to the gym. The ultra-modern wireless earbuds provide superior comfort thanks to their multi-fit silicon tip, and are tough and durable to ensure long-wearing enjoyment.
Key features:
Dual Mic Active Noise Cancelling Technology
One-tap Touch Control
Dual Speaking supported
Auto-pairing
Sweat and dust resistant (IP54)
Comfortable, stable fit
Upto 6 hours playback time
A portion of each sale supports Starlight Children's Foundation
2 Year Manufacturer's Warranty
$ 279.95
Find out more
https://myefm.com/audio/andes-anc/wireless-earbuds