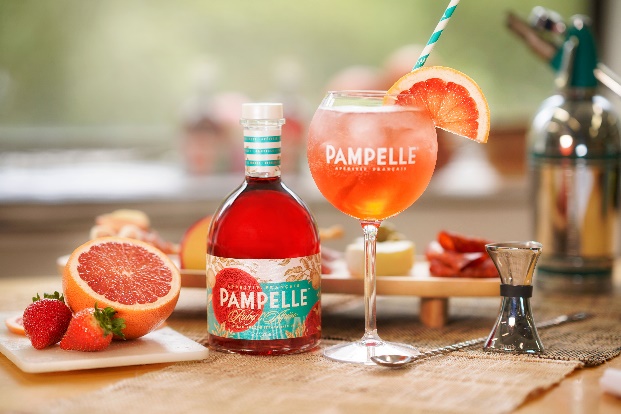 After another turbulent year of lockdowns, this festive season is more welcome and anticipated than ever. As Christmas (and its many accompanying celebrations) roll around and the Summer heat kicks in, many of us are in search of the perfect refreshing beverage to enjoy. Pampelle, the world's first Ruby Red Grapefruit aperitif, is the ultimate taste of summer in a glass, and with only 15% ABV you can indulge in the aperitif guilt-free. 
With a low ABV and 30% less sugar than similar aperitif's on the market, Pampelle is the perfect refreshment to accompany the heat this summer. From enjoying Pampelle with tonic or in the classic Pampelle Spritz, this aperitif brings versatility and vibrant flavours to any summer beverage concoction.
The bittersweet essences of Pampelle's Ruby Red Grapefruit are crafted on the banks of the River Charente in the Cognac region of France and distilled three ways to make a distinctive and unique flavour profile. Pampelle is an artisanal, versatile aperitif with a refreshing Mediterranean taste that encapsulates the relaxed lifestyle of the French Riviera.
Patrick Borg, Founder of Pampelle says, "Aperitifs are always a popular beverage choice, especially at this time of year, as they offer that refreshing, summer feeling. We have crafted Pampelle to bring the taste of summer to consumers, all year round. As an artisanal aperitif, we wanted the unique Ruby Red Grapefruit to bring an essence of European holidays to the Australian population, especially while travel is still a bit uncertain." 
The sweetly bitter disposition pairs perfectly with any spritz, tonic or cocktail ingredient, to make the ultimate drink that tastes like Summer in a glass. The flavours from the French cognac region make Pampelle one-of-a-kind for alcohol connoisseurs, the ultimate alternative beverage to gift a loved one for Christmas or the perfect bottle to share with friends to enjoy the feeling of a warm Summer. 
No matter how you enjoy Pampelle, every sip is guaranteed to make you feel like it's Summertime, anytime! 
To enjoy even more of the French vibes this summer, you can try Pampelle at So Frenchy So Chic, a music festival dedicated to French music past and present and Parisian inspired ensembles. You can now purchase tickets to the event in Melbourne on February 13th or Sydney on February 19th. 
To enjoy the versatility of Pampelle, here are three new cocktails to enjoy this Summer: 
Pampelle Spritz
Ingredients:
2 parts Pampelle
3 parts Prosecco
1 part Soda Water
Method:
Add plenty of ice to a large wine glass
Pour in the measured ingredients and lightly stir
Garnish with a wedge of Ruby Red Grapefruit 

Pampelle Sunset
Ingredients:
45ml Pampelle
1 part orange juice
1 part soda water
Method:
Add plenty of ice to a tall glass
Pour in the measured ingredients and lightly stir
Garnish with an orange wedge
 
Ruby Tuesday
Ingredients:
45ml Pampelle
45ml Pineapple juice
10ml Monin Ginger
10 ml Lemon Juice
Method:
Add plenty of ice to a cocktail shaker, then add ingredients
Shake well to mix
Pour into a cocktail glass of your choice and top with wedge of your favourite citrus fruit. We recommend pineapple, lemon or grapefruit
Available from Dan Murphy's (RRP $30 for members).