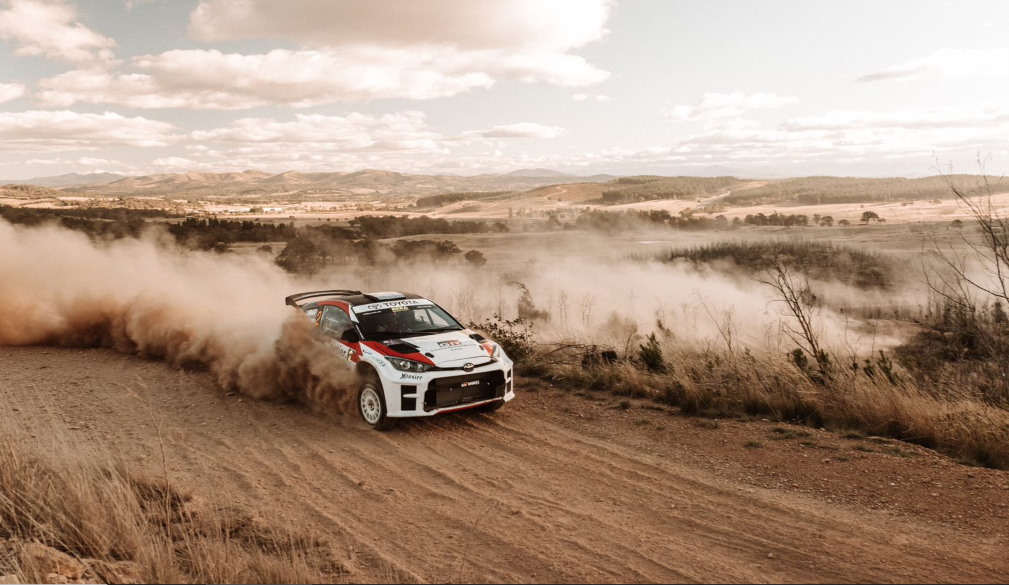 Jack Martin has one of the most high-adrenaline photography gigs in the world. He spends weekends taking shots of rally cars in action and the world that surrounds them. Outside of the cockpit no one gets closer to the action than him.
Just 23, Jack has worked extensively with rally legends Neal and Harry Bates and is currently shooting the Australian Rally Championship and shot the debut of the new Toyota GR Yaris AP4.
Jack has provided some top tips
for anyone aspiring to be a motorsport photographer and looking to nail the perfect rally shot:
One shot, one opportunity: Understanding what content to capture beforehand is especially important for rally photography and will help beginners go a long way. Unlike circuit racing where photographers stand on one corner and shoot cars lap after lap, rally photographers are out in the forest standing at one of the hundreds of corners during a stage, with only one chance to capture the shot. In fact, we hear the car for a long time before we see it and its fast arrival can catch photographers by surprise.  
Composition is key: I use the 'Rule of Thirds', which is a compositional structure that places key elements of the scene into a photo to provide an exciting focal point for the shot.  Understanding the surrounding scenery will help the photos stand out from the rest, so if the location includes a beautiful landscape, incorporate it into the image. 
Safety is number one: Above all else, safety is priority being a rally photographer. As photographers, we get closer than ever to the action, which also poses the risk of serious injury or death. Scout locations to photograph in a protected position so if anything were to happen, there is always a clear path to safety. Whether that is standing on the inside of a corner or behind a big tree, being safe and leaving a stage in one piece to showcase work is key.   
   
Make it count: When capturing content out in a forest, photographers are exposed to all types of weather, sometimes all in the same day. Understanding the light and making sure the camera settings are correct will help photos be at their best. Before shooting the first rally car of the stage, ensure to adjust the frame and light exposure. Each rally stage a car drives through 10 minutes before the first rally car, which is called 'Car 0', this is the one chance to get settings right so make it count! 
  
Be unique: To stand out from other photographers, get creative. All kinds of cameras these days are accessible to all, from smartphones to GoPros and expensive standard body cameras so it pays off being unique. Adapting content with a unique style or individual quirks will make your images distinctive and recognisable. Look at favourite inspirational photographers work to see what makes it unique and bring some of these aspects you're your workflow.   
  
Begin local: I started as a spectator and researched what local rallies to attend throughout the year. Each state has its own championship rounds and information online. Apply for media accreditation to get the perfect shot. Remember even the best photographers in the world start from local events. Attend as many events as possible, practice makes perfect and the recognition will follow. 
  
Network, network, network: Networking is an important part of any job so get to know drivers and teams when attending rally events. By networking and creating meaningful relationships, there's more of a chance to turn photography into a career path. Neal and Harry Bates were the ones that gave me chance, helping me capture content for Toyota Australia. Working with Neal Bates Motorsport team and Toyota Australia gave me the chance to travel all over Australia and seeing my work with such a reputable brand is really uplifting. 
  
Make a plan: Being organised is something a lot of people tend to overlook and over the years I have developed ways at being efficient. On the lead up, I will study the schedule noting times on a notepad for reference. Obtaining stage maps from organisers is a great way to look at potential places to shoot and spot access roads. Most of the time out in the forest there's little to no phone reception, so having a plan or a physical map will help a great deal.     
Get to know the equipment: Even with the most basic cameras, understanding how the camera performs in different lighting conditions will mean knowing exactly what settings are best to use. Photographers will say have the best gear in the business, which is true, although when starting out basic entry level kit such as a camera with a long lens and wide-angle lens can create great images! Gain experience, keep shooting and work up towards purchasing the best gear.    
Do not give up! If you are passionate about rally and want to become a professional, there will be tough times, but the most important thing is to never give up and push through to success. Success is different for everyone and it takes a lot of energy, determination, and time.  
Follow through the lens of Jack at the ARC via Toyota's Instagram.