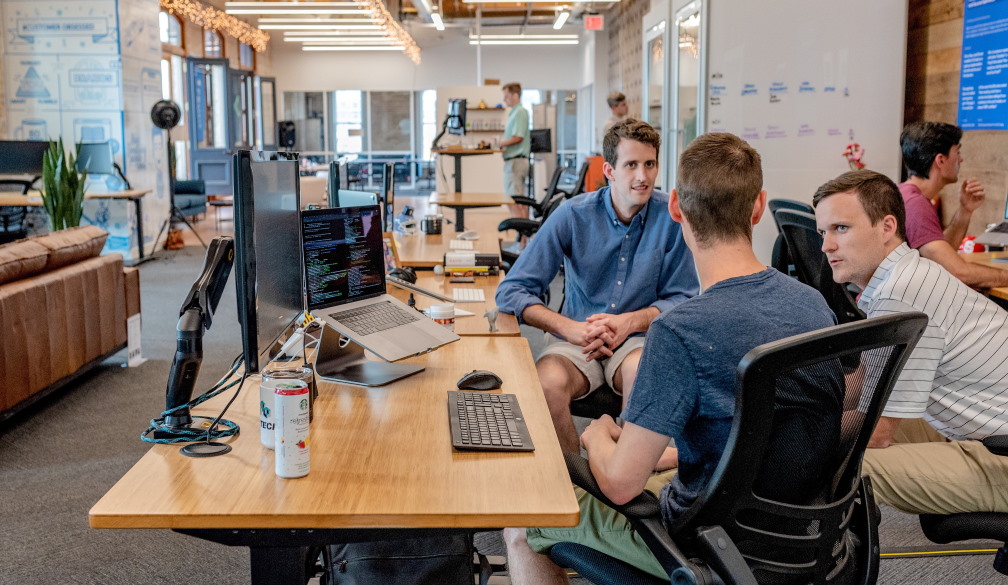 AWS helps Australia bridge the digital skills gap with training programs for the most in-demand digital skills
Sydney, 18 February, 2021 –  Amazon Web Services, Inc. (AWS), an Amazon.com company, released findings from a new research report, estimating that the number of workers in Australia requiring digital skills will need to increase by 79% from today's levels. This translates to an additional 6.5 million newly skilled and reskilled digital workers[1], on top of the existing workforce, required by 2025. The study also found that 43% of Australia's digital workers,[2] who are not applying cloud computing skills today, believe it will be a requirement to perform their jobs by 2025.
The "Unlocking APAC's Digital Potential: Changing Digital Skill Needs and Policy Approaches" report, prepared by strategy and economics consulting firm AlphaBeta, and commissioned by AWS, surveyed more than 500[3] digital workers in Australia and interviewed technology experts, business leaders, and policymakers. The research predicts large-scale data modelling, software operations support, web/game/software development, cloud architecture design, and cybersecurity skills to be the top five in-demand digital skills in Australia by 2025.
By providing products and services, supporting the development of new technology, and generating local employment, the technology sector currently contributes about AU$122 billion to the Australian economy, which is about 6.6%[4] of the country's GDP. The contribution is expected to grow to about AU$207 billion[5] per year by 2030 with the right policy settings and digital skills training. This report predicts that the average Australian worker will need to develop seven new digital skills within the next 5 years to keep pace with technology advancements and demand[6].
Dr. Fraser Thompson, Managing Director of AlphaBeta, commenting on the report, noted that "Australia's economy has been battered by the impact of the COVID-19 pandemic. A plan to build back better from the pandemic will need to have digital skills development at the core. Our research shows that business-as-usual approaches to digital skill development won't get us there. A digital worker in Australia today has about 6.5 digital skills on average, but all workers – digital or not – will need to gain an additional seven skills to keep pace with technological change by 2025. We also need to go beyond just upgrading existing digital workers – the majority of new skill requirements will be with new job seekers, those involuntarily excluded from the workforce, and workers who do not use digital skills in their jobs today. The challenge is huge, but the payoff would be tremendous in terms of stronger economic growth, higher incomes, and a more equitable and resilient economy."
To prepare students for in-demand careers in cloud computing by aligning academic programs to entry-level job requirements, AWS collaborated with Swinburne University of Technology to create an Associate Degree in Advanced Technologies (Cloud Technologies) that incorporates AWS cloud computing content into the two-year, full-time degree program. Sunshine Coast Council collaborated with AWS to offer Next Level digital training, available on-demand to its community, including adult learners, on software and applications development with a focus in cloud computing, cybersecurity, and startups. AWS re/Start[7] collaborates with Australian organisations, including indigenous Australian-owned technology enterprise Goanna Solutions, to offer a full-time, 12-week course that prepares unemployed or underemployed individuals for a career in cloud computing.
"Technology is redefining the Australian workforce and the skills needed to remain competitive. Advances in cloud computing, machine learning, and other emerging technologies have created an exponential pace of change, which has been accelerated by the COVID-19 pandemic, in many industries across Australia," said Iain Rouse, Director and Country Leader, Australia and New Zealand, Worldwide Public Sector, Amazon Web Services. "However, a significant barrier is finding the skilled workers that can make these plans a reality. AWS is committed to providing skills training to help Australians advance their careers and open up a variety of career paths, even for individuals with little-to-no previous tech knowledge. Now more than ever, Australians have an opportunity to embrace learning new digital skills to improve their employability, drive innovation, and contribute to our economic productivity."
AWS provides a range of free training opportunities, including more than 500 free courses, interactive labs, and virtual day-long training sessions that are accessible through AWS Training and Certification. AWS also offers students free, self-paced, online learning content for cloud career pathways related to in-demand jobs such as cloud engineer, cybersecurity specialist, machine learning scientist, and data scientist.
To download the research report of "Unlocking APAC's Digital Potential: Changing Digital Skill Needs and Policy Approaches", please access here.
About Amazon Web Services
For almost 15 years, Amazon Web Services has been the world's most comprehensive and broadly adopted cloud platform. AWS has been continually expanding its services to support virtually any cloud workload, and it now has more than 200 fully featured services for compute, storage, databases, networking, analytics, machine learning and artificial intelligence (AI), Internet of Things (IoT), mobile, security, hybrid, virtual and augmented reality (VR and AR), media, and application development, deployment, and management from 77 Availability Zones (AZs) within 24 geographic regions, with announced plans for 18 more Availability Zones and six more AWS Regions in Australia, India, Indonesia, Japan, Spain, and Switzerland. Millions of customers—including the fastest-growing startups, largest enterprises, and leading government agencies—trust AWS to power their infrastructure, become more agile, and lower costs. To learn more about AWS, visit aws.amazon.com.
About Amazon
Amazon is guided by four principles: customer obsession rather than competitor focus, passion for invention, commitment to operational excellence, and long-term thinking. Customer reviews, 1-Click shopping, personalized recommendations, Prime, Fulfillment by Amazon, AWS, Kindle Direct Publishing, Kindle, Fire tablets, Fire TV, Amazon Echo, and Alexa are some of the products and services pioneered by Amazon. For more information, visit amazon.com/about and follow @AmazonNews.
COMMENTS FROM BUSINESS LEADERS

Optus
"Accelerating our customers' cloud journey and upskilling our own employees' digital capabilities is critical to Optus, which is why we launched the Optus Cloud Academy in 2020 with the aim to train an estimated 2,000 Optus staff with skills across cloud, Internet of Things, data and analytics, security, 5G, and edge computing. Since the program's launch, we've trained and certified almost 1,000 employees and over 140 customers with the skills needed to power our digital future and drive innovation for our customers."
- Theresa Eyssens, Optus Enterprise Vice President of Customer Solutions and Cloud.
RMIT
"All Australians will benefit from developing and continually upgrading their digital skills, be that by learning how to use different digital devices or apps and tools to create, share and understand information to have enduring impact.   
"As a result of the coronavirus pandemic, many people quickly learnt how important digital skills are for their futures. They had to learn how to use digital tools like video calls and telehealth, but with this comes an added need to ensure that information is protected and shared securely. We have a real opportunity to build on this knowledge as a community, such as through RMIT's Cyber Ready Cloud Innovation Centre (CIC).  The University has also recently developed a comprehensive data ethics framework. RMIT students, researchers, AWS innovation experts and partners are co-designing and co-delivering solutions to boost Australia's capability in intelligent data analytics, cyber security and e-safety. Building in-demand data and cyber readiness skills will help address a growing skills shortage in industry. By working in interdisciplinary teams engaged with industry, our students are also gaining valuable soft skills in teamwork, critical thinking, complex problem solving and resourcefulness that will set them up for life and work."  
 - Aleks Subic, Deputy Vice-Chancellor Science, Engineering and Health and Vice President Digital Innovation Professor, RMIT
Swinburne University of Technology
(Regarding Swinburne University of Technology's Associate Degree in Advanced Technologies (Cloud Technologies)
"Swinburne is at the forefront of Industry 4.0 and leading the way in advanced digitalisation capabilities including industrial automation, Internet of Things, big data and AI, smart sensors, autonomous systems, and new-generation processes and materials. Swinburne is a future-facing university, working with industry to co-create new technologies and to prepare our students for the future of work. In collaboration with AWS, we are working to develop courses that meet the needs of future industry. Cloud computing services are growing rapidly and this new model for the Associate Degree will prepare Swinburne students for the high demand for cloud jobs."
- Professor Bronwyn Fox, Deputy Vice-Chancellor (Research and Enterprise), Swinburne University of Technology
Saasyan – leading EdTech solutions developer
"With the rapid acceleration of online activity by students; digital citizenship and how students use technology and online tools to engage with others has increased in its importance. At Saasyan, we've seen increased adoption of our cyber welfare solutions for schools throughout the global pandemic. Across 2020, school leaders from every state and territory in Australia chose to prioritise the online safety of their students. With many students at home due to the lockdowns associated with the pandemic, advice from schools is that online behaviour is having an even greater influence on student wellbeing. Supporting schools to promote digital skills development and promoting safe online usage is vitally important, now more than ever before."
- Greg Margossian, CEO and Founder, Saasyan
AWS Academy graduate – Chris Dilger
In his final years of a Computer Science Bachelor's Degree at Swinburne University of Technology, Chris enrolled in the AWS Academy Cloud Architecting course to gain a higher understanding of the IT concepts he was learning at university. After passing the AWS Certified Solutions Architect – Associate course Chris subsequently landed a role as a data engineer at Versent, an AWS-dedicated consultancy. Chris is immensely passionate about Australians building their digital skills and remains engaged with a number of mentor programs at Swinburne University to help other students access similar training and skills, and to build innovative solutions to the country's biggest challenges. As an example, Chris is working on a tech project called The Helping Group, which gives people a place to go to find housing and safe lodgings for stock during bushfires. The team has built a platform that scaled from regional Victoria to metro Melbourne. A year on, it's still being used to support natural disaster efforts.
"I did have some technical experience, but AWS Academy gave me a higher understanding of networking concepts, access management and how different services fit into different solutions," said Chris. "I still use the lessons I learned through AWS Academy on a day-to-day basis. Because of the AWS Academy Cloud Architecting course, I'm confident that I can use a wide range of techniques to solve problems and let organizations leverage their data to the fullest extent."
AWS re/Start graduate – Ailao Abe
Ailao Ale had worked in retail for over a decade. Wanting a career change and looking to enter the technology industry, he explored numerous certifications but found them to be too theory based and lacking the practical experience needed to secure a job. When Ailao saw an ad for the Amazon Web Services (AWS) re/Start program he immediately enrolled, loving that the course not only covered specialist skills in tech, but also had a focus on career skills. Ailao now works in a service desk engineering role, based in Gosford NSW. AWS re/Start taught me the foundational skills I needed to enter the industry, such as a focus on the Cloud and different operating systems. But it was the soft skills like working in a team and confidence building that I found most valuable and which really set the program apart from the rest," said Ailao. "I commenced the course during the COVID-19 lockdown, so all of the classes were held virtually. Learning remotely via Zoom was a valuable experience in itself. So many businesses have shifted to a work from home or hybrid working environment, so it was a great way to prepare for that."
In his current role Ailao has faced a number of steep learning curves, but he's been prepared for them thanks to the hands-on nature of the re/Start program and the skills he learnt throughout. Having had no background in technology before completing re/Start, Ailao believes others looking to enter the industry can benefit with the courses' accessible design as it's suited to those with no prior experience. "I find that I'm often demonstrating the skills I learned through re/Start to my family and friends. My roommate has been interested in learning how to use the Linux system, which we covered in the program, and it's great to be able to pass on that knowledge," said Ailao.
AWS re/Start graduate – Abi
After nearly a decade of being a stay at home mum, former IT project manager Abi was eager to get back into technology. However, having moved from Pakistan to Australia and being out of the workforce for quite some time, Abi needed to upskill in order to re-enter the workforce. Abi found AWS's re/Start program - a skills development and job training program delivered in collaboration with Goanna Solutions, a leading Indigenous Australian-owned technology enterprise. The program works with learners in the Melbourne, Sydney and Brisbane areas on integrated training including technical, behavioural, and mindset skills, mentoring, social support services, job application, and interview preparation. After completing the 12 week program, which prepares learners start careers in the cloud, Abi secured a role at TAFE NSW. She also commenced studying a Diploma of IT and Project Management (Systems Analysis), which has ignited a new passion for machine learning and Business Intelligence.
"AWS The re/Start program gave me lots of new skills and helped develop my knowledge of the latest technologies, particularly cloud computing", said Abi. "It was easy to engage and the teachers were really helpful. They gave lots of practical training opportunities throughout the 12 week online course which taught us how to apply the information we were learning. I've put a lot of these skills into practice already, particularly as my workplace continues to move towards cloud."
 Abi is passionate about digital upskilling and frequently helps her friends and family learn new technologies. "Since completing the course I've had lots of friends ask me about re/Start," said Abi. "Two of my friends were IT professionals that got into banking and finance. They're looking for a way to move back into technology so I've suggested the course to them. I've also encouraged by own brother to get in touch with the re/Start coordinators."
NOTES


[1] Digital workers are defined as individuals who have the ability to apply digital technologies on work-related tasks. The additional number of digital workers refer to the increase in the number of workers in Australia who require to apply digital skills in order to perform their jobs, between 2020 and 2025. Both the 2020 and 2025 estimates of the number of digital workers were derived based on economic modelling that took into account national employment statistics, employment projections by the International Labor Organization, and workforce surveys on digital skill utilisation that were launched in the six APAC countries for this research.
[1] Ibid.
[1] "AlphaBeta Digital Skills Worker Survey 2020" was conducted by AlphaBeta with more than 500 respondents in Australia, as part of a sample size of more than 3,000 across six countries in Asia Pacific. The sample size of respondents is statistically significant based on the size of Australia's total workforce, at a 95 percent confidence level – the level typically adopted by researchers.
4 AlphaBeta, Australia's Digital Opportunity, https://digi.org.au/wp-content/uploads/2019/09/Australias-Digital-Opportunity.pdf, September 2019
5 Ibid.
6 Survey respondents of "AlphaBeta Digital Skills Worker Survey 2020" include Australia's current digital workers that are from industries such as technology, retail and wholesale trade, education, financial services, and healthcare. Future workers are assumed to require the same skill profile as current digital workers in 2025 in order to be competitive in the job market. Current non-digital workers are assumed to have to learn at least basic digital skills by 2025. The skill profile of these current non-digital workers in 2025 is expected to match that of current digital workers who apply only basic digital skills at work today.
7 AWS re/Start is a full-time, classroom-based skills development and training program that prepares individuals for careers in the cloud and connects them to potential employers. The program is focused on unemployed or underemployed individuals, including military veterans, their families, and young people. More information here: https://aws.amazon.com/training/restart/