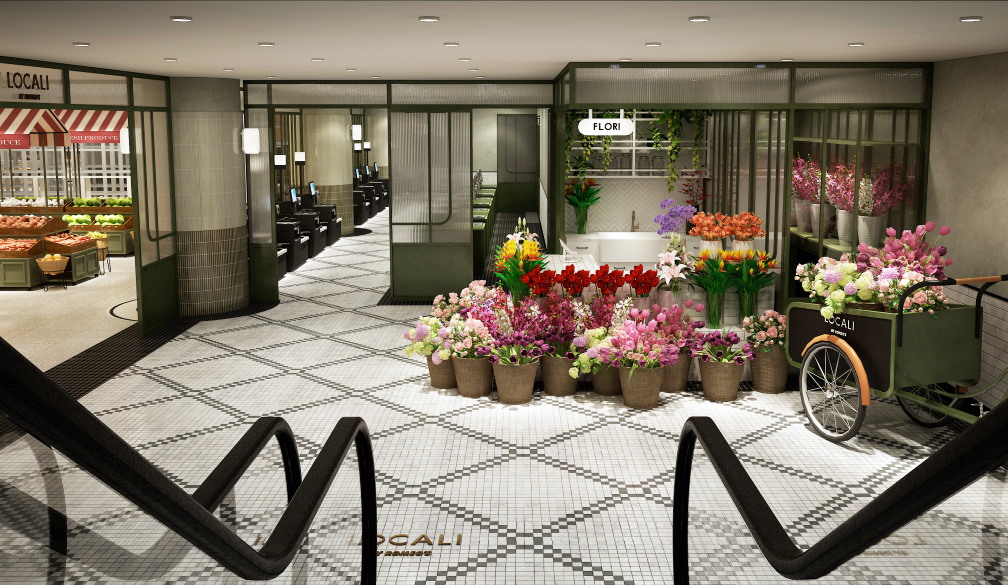 One of Sydney's best kept retail leasing deals can now be revealed with independent  grocer, Romeo's Retail Group, preparing to open Sydney's first Locali by Romeo's food market at 388 George Street.
The European-inspired fresh food market will open mid-March, making it the first of its kind in Sydney. A second  Locali by Romeo's will open mid-year at Brookfield Place Sydney. 
Romeo's Retail Group will deliver its brand-new European-inspired food market in the lower level of 388 George  Street, with pedestrian access provided via both King and George Streets. 
The Group has signed a 15-year lease for approximately 1,600 sqm of space and will deliver a contemporary fresh  food market featuring a walk-in cheese room, commercial kitchen, dine-in café and restaurant, sushi bar, meat and  fish offering, continental delicatessen, nut bar, salumi bar, authentic fresh pizza, Italian bakery, florist, and a liquor  store – offering wine tastings.
Mr Joseph Romeo said: "Our unique in-store experience of fresh food and dine-in options is strongly supported by  our niche, locally-sourced products which support Australian farmers and producers. This is complemented by our  unique global range."
The $200 million transformation project of 388 George Street was completed in November last year. 
Danny Poljak, Executive Vice President & Co-Head of Brookfield Properties, said: "The Romeo family are innovating  the way Sydneysiders and CBD workers view their local grocer. With Locali by Romeo's, they are really carving out a  niche in the Sydney market by providing outstanding food and beverage choice combined with everyday essentials  and amenity."
Nicole Quagliata, Fund Manager, OIPP, said: "Locali by Romeo's is a wonderful addition to 388 George Street, which  is fast cementing its position within Sydney's new luxury precinct."
About 388 George Street
388 George Street sits on one of Sydney's busiest intersections on what is fast becoming the George Street  Boulevard. Outstanding transport options, easy access to some of the world's best-known luxury brands and  outstanding everyday amenity. It is jointly owned by Brookfield and Oxford Investa Property Partners (OIPP).
388 George Street was completely refurbished and reimagined in 2020, and the office space in the main tower  now includes activated atriums to enhance connectivity, new ceilings, carpets, bathrooms, lift floor lobbies, new  chillers, and on-floor amenities to enable highly productive 1:10 workspace densities. It is already home to Aware  Super, with QBE joining in April 2021.
The ground plane and new pavilion building was designed by architects FJMT and provides five levels of commercial  and retail space, a rooftop bar and flagship retail stores. It was designed to complement the rich history of the site,  incorporating a custom-designed curved sandstone and glass façade inspired by the topography of the surrounding  CBD landscape.