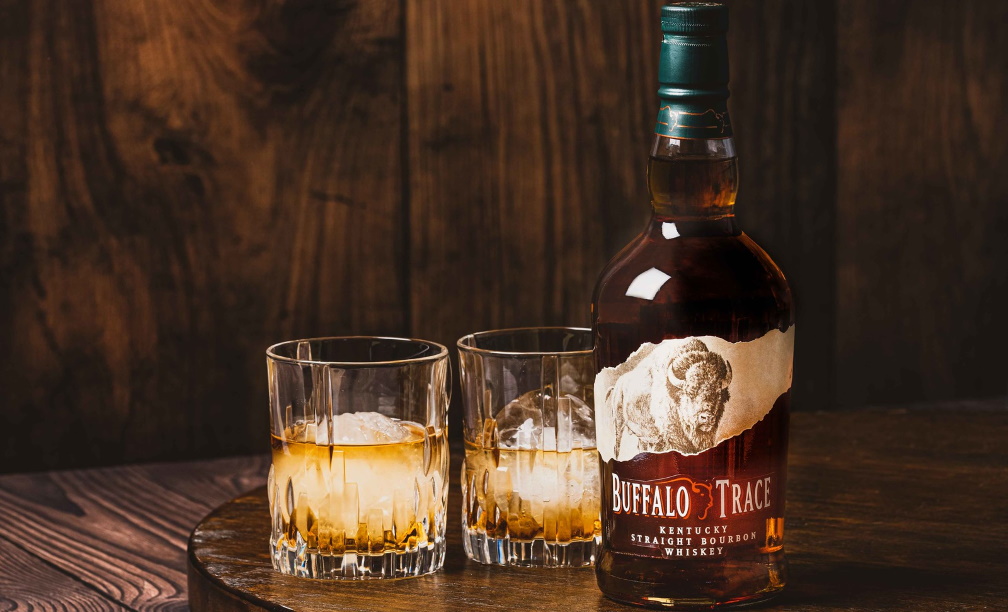 Win dad's heart with an award-winning bottle of Buffalo Trace Bourbon
Celebrate the old man this Father's Day with a gift that will hit the mark, a bottle of Buffalo Trace Kentucky Straight Bourbon Whiskey. The critically acclaimed drop has been carefully crafted by the World's most awarded Distillery and has garnered hundreds of national and international accolades itself, making Buffalo Trace a perfectly aged bottle of bourbon that speaks to any father's taste.
For over 200 years, Buffalo Trace Distillery has been making legendary bourbon whiskey in Kentucky, including Pappy Van Winkle, Eagle Rare and Buffalo Trace Bourbon. As the oldest continuously operating distillery in America (even producing under a medicinal license during Prohibition), Buffalo Trace has won an unmatched 14 'Distillery of the Year' titles and is still American family-owned to this day.
Whether Dad prefers it neat, on the rocks, or mixed with Cola or Ginger Ale, Buffalo Trace Bourbon features rich flavours of toffee, vanilla and molasses which goes down smoothly with a warm hint of brown sugar and spice. The body is big and packed full of flavour, allowing this bourbon to stand up when mixed into a cocktail or alongside your favourite mixer and a chunk of ice. Each batch is carefully matured in century old warehouses where it ages longer than most other bourbons, to produce a unique whiskey that is said to be unmatched by any other.
Share a toast this Father's Day and pair it with your Sunday barbeque full of smoked meats to complement the complex flavour profile. If dad has a sweet tooth, dark chocolate, berries and nuts will heighten the spicy undertones of the anise and cinnamon. Buffalo Trace can also be paired with a charcuterie board of rustic cheeses, salami, hams and dried fruits to bring forth a different tasting experience with every sip.
For only $59 RRP from BWS, Dan Murphy's and First Choice Liquor Buffalo Trace Kentucky Straight Bourbon Whiskey is a great gift for Dad that doesn't compromise on taste while not breaking the bank.


About Buffalo Trace Distillery


Buffalo Trace Distillery is an American family-owned company based in Frankfort, Franklin County, Kentucky. The Distillery's rich tradition dates back to 1775 and includes such legends as E.H. Taylor, Jr., George T. Stagg, Albert B. Blanton, Orville Schupp, and Elmer T. Lee.  Buffalo Trace Distillery is a fully operational Distillery producing bourbon, rye and vodka on site and is a National Historic Landmark as well as is listed on the National Register of Historic Places. The Distillery has won 35 distillery titles since 2000 from such notable publications as Whisky Magazine, Whisky Advocate Magazine and Wine Enthusiast Magazine. Its Col. E. H. Taylor, Jr. Four Grain Bourbon was named World Whiskey of the Year for 2018 and its William Larue Weller and Thomas H. Handy Sazerac were named 2nd and 3rd finest whiskeys in the world for 2020.  Buffalo Trace Distillery has also garnered more than 1,000 awards for its wide range of premium whiskies. To learn more about Buffalo Trace Distillery visit www.buffalotracedistillery.com.