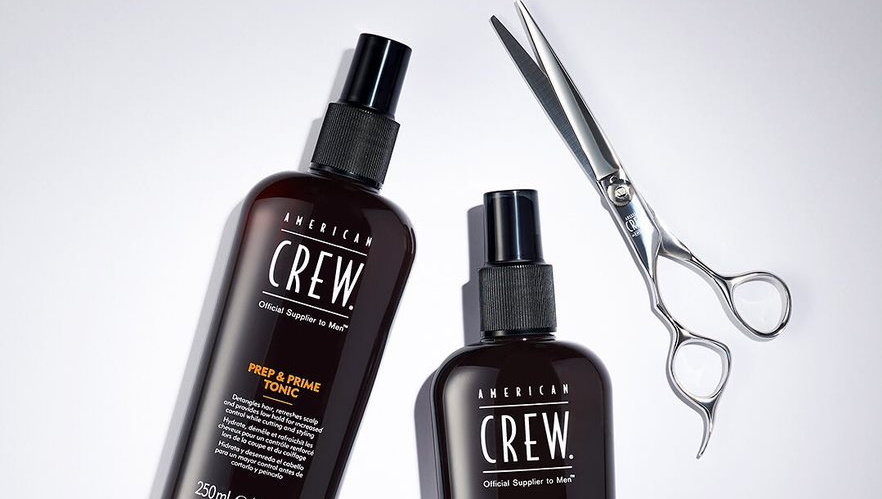 American Crew®, the leading men's professional grooming brand introduces NEW Prep & Prime Tonic, a multifaceted product that acts as the ultimate tool to prepare hair for cutting and styling. This lightly-moisturizing, refreshing hair tonic adds a light hold and texture for increased control and manageability, optimizing the styling experience from start to finish. The latest addition to American Crew's comprehensive line of styling products, Prep & Prime Tonic works to moisturize, detangle and refresh the hair and scalp, while providing heat protection.  Formulated with the Pro in mind, this spray tonic was designed to improve the slip of the comb without damaging tools such as sheers or clippers.
"We are always looking for ways to enhance both the Pro and their client's experience in the salon, ensuring that our products are not only practical, but also intuitive," said American Crew Founder, David Raccuglia. "From the moment the haircutting process begins, our Prep & Prime Tonic has a direct impact on the final result."
How to Apply: Spray an even amount of product directly to the hair and scalp prior to combing. Working in sections, re-apply as necessary to wet the hair and increase slip. Allow to dry naturally or follow up with a blow dryer and finishing product.
Key Features:
* Light hold, low shine
* Moisturizes & detangles hair while increasing manageability
* Provides heat protection
* Provides refreshing and invigorating sensation to the scalp
* Does not cause damage or build-up on tools
RRP: $26.95
About American Crew®:
American Crew®, the Official Supplier to Men™, was founded in 1994 creating a market for grooming options made specifically for men. Over 25 years later, the company has developed a comprehensive portfolio of premium products, as well as a legacy steeped in commitment to the performance that stylists demand and the quality that men trust. From hair and body to shave, skin and fragrance, the American Crew® brand is dedicated to fulfilling the styling needs of today's man. A landmark in the professional grooming industry, American Crew® has distribution in over 30,000 salons, barbershops and authorized retailers across 50 countries.
For the latest on American Crew® including news and grooming tips, follow @AmericanCrew on Instagram, Facebook and YouTube, and visit www.americancrew.com.