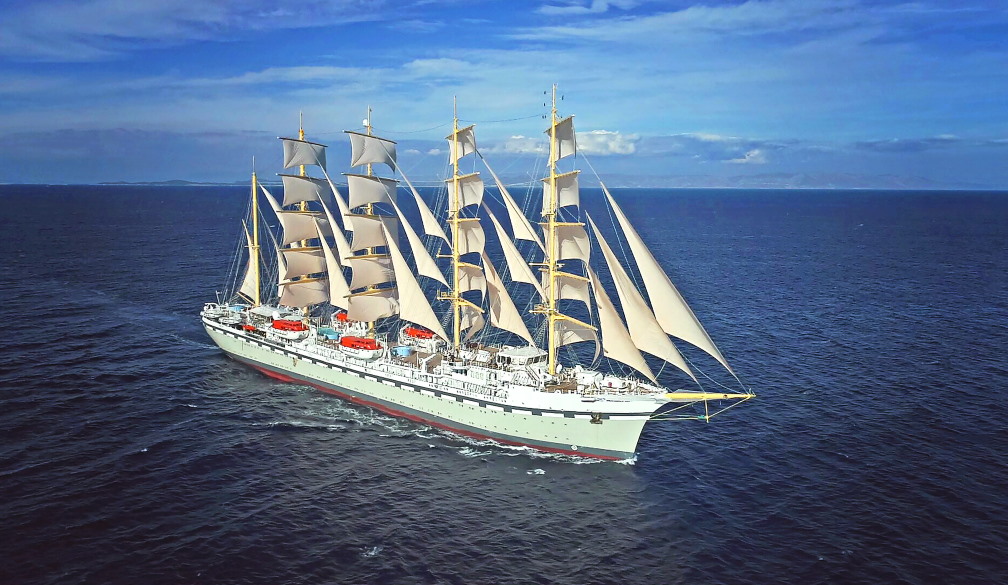 The Iconic Indian Pacific train PLUS the world's largest sailing ship 
The closure of international borders has prompted more Australians to spend more time exploring our own continent instead. With this in mind, Australia's leading small ship cruise specialist, Cruise Traveller, has launched two extended 'slow travel' packages for January 2022 combining journeys across Australia aboard the world's largest and newest sailing ship and also the iconic Indian Pacific train.
The two new 'Tradewinds and Trains of Australia' packages - a 34-night itinerary from Sydney and a 33-night package from Perth – both feature a trans-continental voyage aboard the brand new, five-masted tall ship, Golden Horizon, which will be launched this May by new UK cruise line, Tradewind Voyages. Next summer, the huge, 272-guest square-rigger will grace our shores for the first time and, in a circumnavigation of the country, take modern-day seafarers to wild and remote places in southern Australia never visited by larger ships and rarely by other vessels.
As Tradewind Voyages' exclusive Australian partner, Cruise Traveller first opened Golden Horizon's Australian sailings for sale last November and ever since, the majestic ship has captured the imagination of scores of Australians, with a wave of bookings for her circumnavigation sectors next summer.
To meet demand and enhance the slow travel appeal of the journey, Cruise Traveller has released two new 'no flight' rail and sail packages:
Ex Sydney – 34-night package beginning January 6, 2022, with a 29-night voyage aboard Golden Horizon from Sydney to Perth, followed by two nights in a five-star Perth hotel and a three-night journey from Perth back to Sydney aboard the Indian Pacific train. The package is available from A$19,995 per person, twin-share, ex Sydney, including beer and wine with lunch and dinner aboard the ship.
Ex Perth – 33-night package beginning January 2, 2022, with a three-night train trip to Sydney aboard the Indian Pacific followed by one night in a five-star Sydney hotel and a 29-night voyage aboard Golden Horizon from Sydney back to Perth. This package is available from A$19,795 per person, twin-share, including beer and wine with lunch and dinner aboard the ship. 
Connections from other cities can be added.
The epic 29-night voyage from Sydney to Perth will feature 19 ports of call, with the spectacular sight of Golden Horizon expected to attract thousands of sightseers throughout the journey. Most of the destinations the ship will grace are secluded, pristine places that rarely feature on cruise itineraries such as Jervis Bay and Batemans Bay in NSW, Maria Island and King Island in Tasmania, Victor Harbour, Coffin Bay and the 120m-high Nullarbor Cliffs in South Australia  and Israelite Bay and Bremer Bay in Western Australia.
Golden Horizon is modern, luxurious and spacious but also graceful and traditional in style, with the ship – boasting 6300 square metres of billowing sails – planning to be powered solely by the wind for 70 per cent of the time. She will feature a fine cuisine dining room, three pools, gym, library, spa sanctuary, four bars, a marina platform and a collection of kayaks, waterskis and wakeboards for guests to use. All 140 cabins will offer ocean vistas.
Meanwhile, the famous Indian Pacific train  includes all-inclusive, regionally-inspired cuisine and beverages and included off-train experiences and excursions at outback locations like Broken Hill, Cook, Rawlinna and Kalgoorlie, with guests able to take in the passing scenery from their sleeper cabins, the restaurant or the lounge car.
* To book the 'Tradewinds and Trains of Australia' packages, call Cruise Traveller on 1800 507 777 or visit www.cruisetraveller.com.au/tradewinds_train or contact a travel agent.
Cruise Traveller is Australia's leader in the small ship market, representing 55 boutique, luxury, river and expedition cruising operators around the world including Tradewind Voyages.