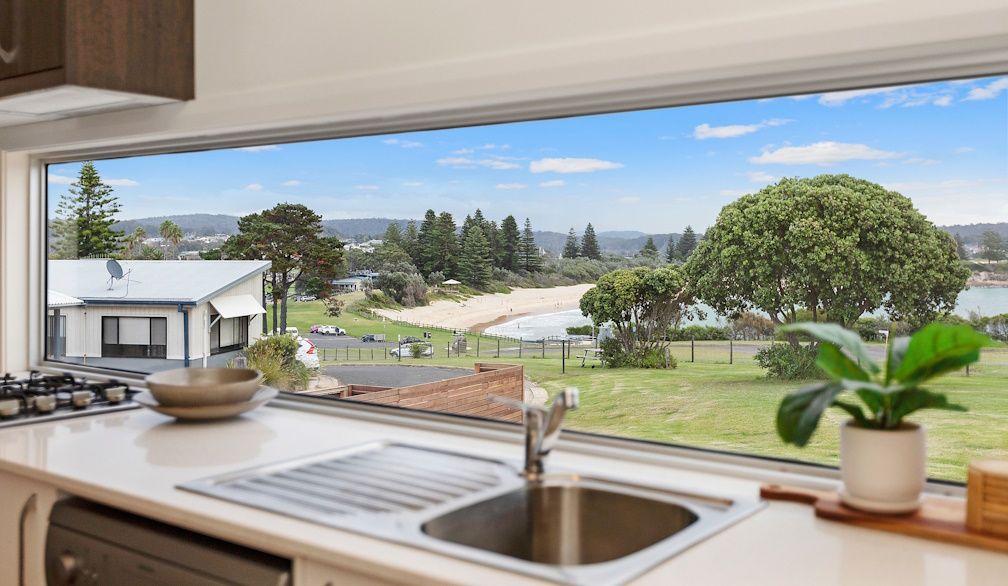 Reflections has utilised $13.4 million in NSW Government funding to launch a raft of new accommodation in 10 coastal and inland holiday parks.
Reflections CEO Nick Baker said the funding, part of a $28 million loan to improve park facilities, had allowed the holiday group to diversify its accommodation in many regions, in turn boosting their tourism markets.
"By adding different types of accommodation, from glamping tents to deluxe cabins, we broaden the tourism attraction and support scores of local businesses," Mr Baker said.
"We encourage our guests to not only enjoy their accommodation and our parks, but also to go out and explore local communities and support the family businesses which rely on tourism all through the year."
The loan enabled Reflections - a Crown Land Manager that cares for more than 24,000 acres of land on behalf of the NSW public – to invest in the following projects in the 2023 financial year:
    25 Tiny Homes in Scotts Head, Shaws Bay and Evans Head, with Bermagui and Lake Keepit soon to launch at a cost of $4.85m
    A cabin precinct at Bermagui ($3.26m)
    Diversified roofed accommodation at Byron Bay, Moonee Beach, and Ferry Reserve ($2.33m)
    A cabin precinct at Massy Greene $2.6m)
    A Glamping Precinct at Lennox Head ($336,000)
The new Reflections accommodation represents a 10.3% increase in roofed accommodation across its portfolio of 37 parks and has a combined economic impact of $20.5m.
The program will continue to deliver further investments through to at least June 2024.
Reflections has increased its roofed accommodation to offer more options for its guests and, importantly, continues to offer the largest range of powered and unpowered sites, compared to its NSW competitors, for those travellers who prefer traditional tent camping.
Reflections reinvests all profits back into the public land it manages: 94% of this land is nature reserve, the rest is where its holiday parks operate.
It is the only Australian holiday park group with certification as a social enterprise.
For more information on Reflections, or to make a booking at one of its 37 holiday parks, go to
www.reflections.com.au
.
Reflections is a Crown Lands Manager and the only holiday park group in Australia that is a certified social enterprise. It cares for 47 reserves, or more than 24,000 acres of public land in NSW, and operates 37 holiday parks in coastal and inland NSW.