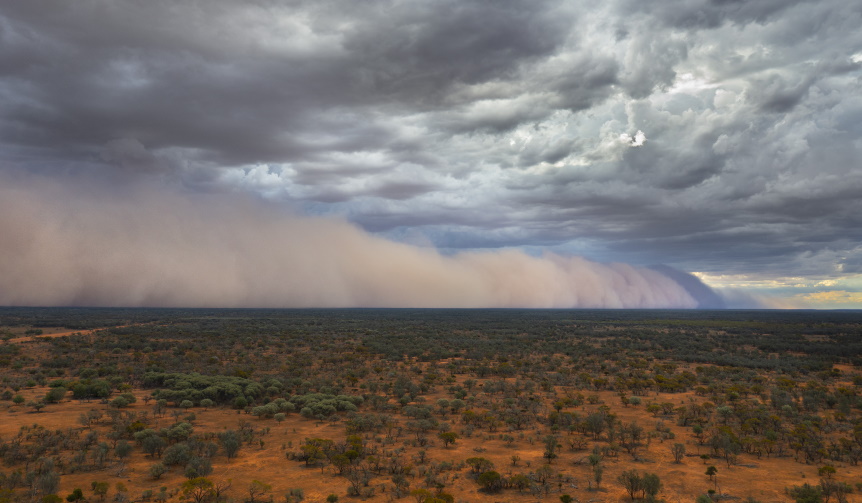 STEPHEN DUPONT'S ARE WE DEAD YET? EXHIBITION AVAILABLE ONLINE
Are We Dead Yet? is an exhibition by renowned photographer and intrepid world traveller Stephen Dupont that documents the diverse landscapes and people caught unwittingly in the midst of climate change events across our nation.
Curated and presented by aMBUSH Gallery, Are We Dead Yet? is available to be experienced virtually at www.kambri.com.au. The exhibition is installed at aMBUSH Gallery Kambri, and will be open for guests to enjoy when the current ACT restrictions are eased.
Shot over the past few years in locations across New South Wales, Queensland, Victoria and Tasmania, the 20 works on show expose an intriguing and often heartbreaking display of the landscape and people caught in the midst of climate change events.
Inspired by his young daughter Ava – a climate activist – Dupont's discussions about environmental issues inevitably end up at the big question: is it possible to save the planet, or have we pushed Mother Nature to the brink of extinction?
For Are We Dead Yet? Dupont wanted his images to reflect both the consequences of our current path as well as signal the urgency to find new ones, while motivating viewers to question their roles and responsibilities in this real-time catastrophe.
As he explains, "I'm looking at this as an artistic kind of canvas – a way to view the tragedies and the trauma of the earth, but to find some sort of beauty in it as well, in the colour palette of the landscape. And highlighting the catastrophe so it comes out in a way that will hopefully please people in terms of what they're looking at but then go much deeper – getting them to understand that these photographs might be beautiful, but if you look at them really closely, there's a very deep message in all of them and there's a real sense of urgency in what I'm showing."
From the solitary figure swimming in the ocean during a dust storm, to a flooded football ground, or the charred bushland ravaged by fire and the parched ground of drought-stricken regions, this photographic journey traverses much of Australia, telling striking visual stories of suffering, confusion, anger and fear.
While the impacts of climate change are vast and growing around the globe, Australia is considered the climate crisis 'litmus test': what happens here will ultimately determine the outcomes for the rest of the world.
"The problem is we're living in a world of lies and blackmail … we are being led astray in many ways, and I think if you just look at nature, it's telling us that! I think that [nature] is our most objective journalist. We are going to be the template for the whole planet, so it's really interesting to look at what's happened in the last two to three years with the fires, the floods, the drought and now with the mice … it's just one disaster after another!" Dupont exclaims.
The potent effects of climate change are causing an increase in the number of natural disasters such as floods and bushfires.
As Dupont describes, "The Australian 'Black Summer' bushfires of 2019/20 are embedded in my memory like none before. A long drought, a sunburnt landscape waiting to ignite. It caught the nation by surprise. In swept the westerly winds and blistering temperatures, and then the fires. From Queensland to Victoria, the coastline was engulfed by hundreds of raging infernos. We are used to fires in this country, but I couldn't recall anything on this scale and with this ferocity."
Nature responds to such extreme events by either adapting or becoming extinct, and Dupont believes that we in turn must react by accepting the evidence in front of us, educating ourselves, and committing to change our way of life.
"We're not going to have a planet to live on if we don't do it … that's the bottom line. It's really the second before midnight, and if we don't do something, it's a ticking time bomb," Dupont urges.
The exhibition will then run until Sunday, 24 October. When restrictions ease in Canberra and the gallery is allowed to accept visitors, the exhibition will be open daily from 10am-6pm weekdays and 12pm-5pm on weekends. Admission is free and all artworks are for sale.
To experience the exhibition now, virtually from the comfort of home visit www.kambri.com.au/event/are-we-dead-yet-by-stephen-dupont
The catalogue can be viewed online and for enquiries about purchasing works, email elisa@ambushgallery.com
Look for aMBUSH Gallery on Facebook and Instagram for exhibition updates.
About Kambri at ANU
Kambri at ANU is located in Australia's capital city, Canberra. Their strong ties to the local area are reflected in the gifting of the name 'Kambri' by elders from the ACT's four Indigenous communities. The Kambri precinct will be known as a hub for innovation and knowledge, while also providing a welcoming space for the greater Canberra community to gather. Facilities and services include: a multi-storey medical centre; 24-hour pool and gymnasium; a culture and events building hosting theatre, concerts and functions; a unique laneway and lawn retail experience with dozens of independent food and beverage operators, plus abundant greenscapes where students, staff, families and city workers alike can relax, reflect and be inspired. Kambri's year-round calendar of events and activations will ensure it offers an engaging and eclectic environment, delivered within a village atmosphere.
About aMBUSH

aMBUSH Gallery – an initiative of Wiltshire + Dimas – is an award-winning art gallery, social enterprise and creative placemaker that thrives on operating outside the parameters of a traditional gallery. They curate and produce arts and cultural activities both in Australia and overseas, with a program of site-specific, project-based art activations stemming from a unique fusion of philanthropic and commercial impulses that engage audiences, provide sustainable futures for artists, and establish a strong presence for their partners. Their newest exhibition space at the ANU's new Kambri campus is a modern, world-class facility renowned for its focus on innovation and excellence.