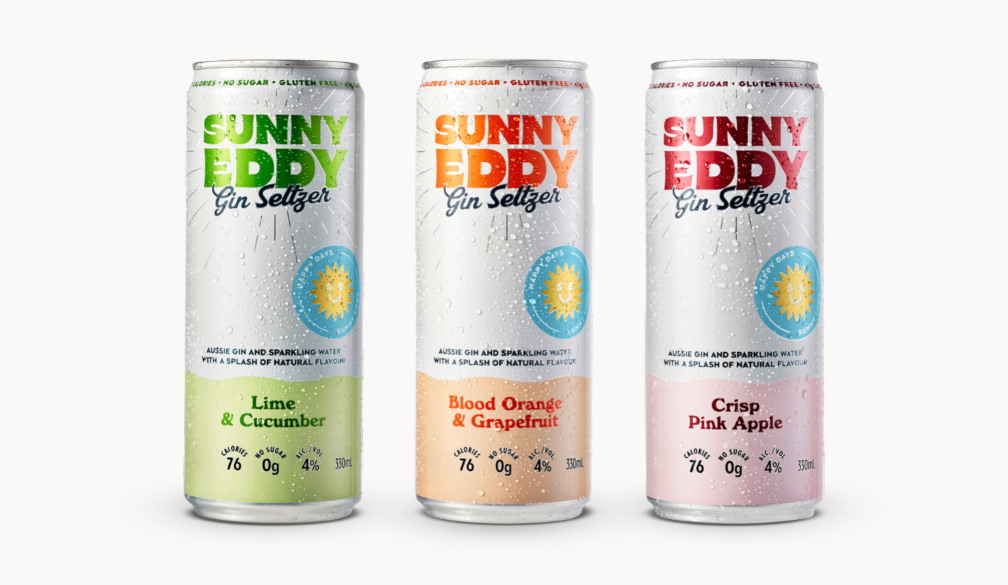 Australia finally has its first gin-based hard seltzer launching nationally this month. Born in Avalon on Sydney's northern beaches, Sunny Eddy Gin Seltzer's three natural flavours are pure refreshment made for good times with great mates. Preservative free and containing no sugar, Sunny Eddy is the lighter alternative to a G&T.
Sunny Eddy uses triple-distilled Australian gin made with juniper and native lemon myrtle which pairs perfectly with three approachable, crisp, natural flavours:
®  Lime and Cucumber - the citrus burst of lime and the clean refreshment of the cucumber pair perfectly to make this Sunny Eddy's signature flavour and a real standout.
®  Crisp Pink Apple - just a little bit sweet yet crisp and refreshing, it evolves in the mouth with a hint of hibiscus.
®  Blood Orange and Grapefruit - this double hit of citrus combines with our lemon myrtle gin to create a delightful burst of flavour with real zing.
Each Sunny Eddy Gin Seltzer is just 76 calories per 330ml can, sugar free, gluten free and contains less than 1g of carbs. Sunny Eddy founder, Tim Phillips, has a solid background in health and wellness, having built up several prominent businesses including Michelle Bridges' 12WBT, and saw a huge demand for 'better for you' alcoholic drinks.
"Seltzer is such a refreshing option for our hot summer days by the beach or pool, but honestly I found vodka-based seltzer a little bland," explains Phillips. "Being a gin fan and knowing how much Australians also love gin, we developed our botanical Aussie gin as a base. No sugar or preservatives makes Sunny Eddy Gin Seltzer a lighter, more refreshing alternative to a gin and tonic. It's also an ideal option for those of us avoiding sugar or who are gluten intolerant."
Still relatively new in Australia, seltzer's popularity continues to explode with sales increasing month on month according to Nielsen. In the US, seltzer's home market, it has seen triple-digit percentage growth over the past two years and is predicted to triple again in size by 2023, according to analysis from the IWSR.
Sunny Eddy Gin Seltzer is available to purchase online via sunnyeddy.com.au for delivery nationwide as well as through selected independent retailers in Sydney. RRP $6.00 per 330ml can or $59.99 per case of 12. ABV 4%.