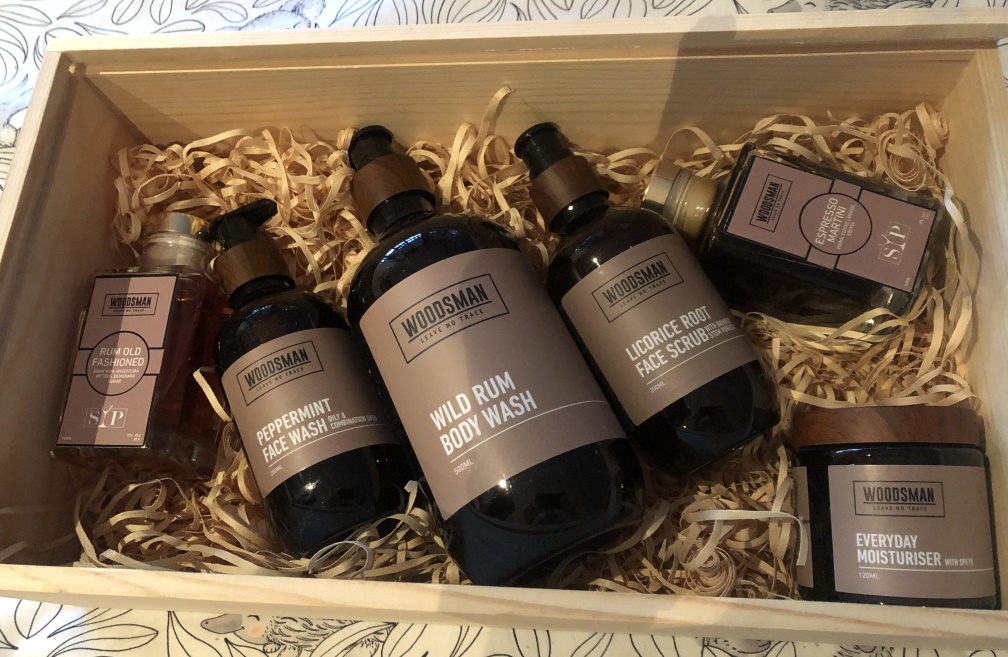 Australian-made Woodsman Skincare has launched a range of men's  skincare that proves that when it comes to taking care of their skin, Aussie men can choose premium without the hefty price tag. Using high quality, natural ingredients, and eco-friendly  packaging you'd be proud to show off in your bathroom, the tightly edited new Woodsman range features six skin and body care products to cleanse, scrub and moisturise, with every product in  the range available for $15 or under.  
With a goal to create a natural men's skincare range that was straight to the point and easy to use,  the new Woodsman collection includes two facial cleansers, (one for sensitive and one for  combination skin), a facial scrub, an everyday moisturiser with SPF, a handwash and a body wash;  all designed to give men bang-for-their-buck when looking to take the next step in their skincare  journey. 
The entire range is based on clean formulations using proven natural ingredients, leaving out the  harsh chemicals commonly found in men's skincare. From plant extracts like Quandong, Magnolia  Bark, Licorice Root, and Grapefruit Seed, to natural oils including Tangerine, Bergamot, Linseed,  Avocado, Patchouli and Argan Oils, Woodsman products are as gentle as they are nourishing and  suitable for a range of skin types. 
Available online at www.woodsman.com.au and having recently secured national ranging at Coles  Supermarkets, Woodsman Skincare co-owner Geoffrey Turton is confident that the new range will  meet the needs of a large segment of the male population, whether they're skincare novices or  aficionados. 
"As a keen skincare user myself, I know that for too long, men have had to choose between super  'blokey' skincare filled with harsh ingredients that do little except strip the skin, or mainstream  skincare brands marketed at women with complex ingredients lists and multiple steps," he said. 
"What sets Woodsman apart is our no-fuss approach, giving Aussie men the confidence to take  better care of their skin, without having to invest hundreds of dollars in the process. While our formulations are premium, our prices are not, and this has been part of our strategy from the outset:  Taking less of a margin so we can keep Woodsman as affordable as possible for our customers." 
With a leave no trace approach, Woodsman is committed to operating as sustainably as possible and to continuously evolving its practices to improve its sustainability credentials. All Woodsman  products are vegan and cruelty free and all bottles are made using recycled plastics. Woodsman  will also plant a tree for every online order. 
The Woodsman Skincare range includes:  
Woodsman Skincare Dry and Sensitive Peppermint Face Wash 
200ml, RRP $15.00  
If you're a dude prone to dry skin, put down the soap bar! This gentle milky face wash is  naturally scented with Peppermint Oil and Liquorice extract and is formulated to brighten,  soothe and clean the skin, while working to prevent the production of dark spots. With Vitamin E and Magnolia Bark extract to help protect the skin from free radicals, this face  wash is the daily cleanser for those with skin prone to dryness or sensitivity.  
Woodsman Skincare Oily and Combination Peppermint Face Wash 
200ml, RRP $15.00 
If you think soap is a good option for your oily and combination skin, think again! Harsh  soaps will only strip the acid mantle, which can cause your oil production to go into  overdrive. Instead, opt for this gentle foaming facewash formulated with native Australian  Quandong fruit extracts to gently strip away damaged skin cells and promote even  pigmentation. This is the perfect daily face wash to cleanse, brighten and balance oily  and combination skin.  
Woodsman Skincare Licorice Root Face Scrub 
200ml, RRP $15.00 
Farewell dead skin cells and microplastics with this eco-friendly face scrub which uses  Bamboo Stem Powder to purify skin by eliminating built-up dirt and excess sebum. The  addition of Magnolia Bark Extract helps protect the skin from free radicals, while the  inclusion of licorice root helps to reduce the appearance of dark spots and  hyperpigmentation. Best used just a few times each week to keep your skin singing!  
Woodsman Skincare Everyday Moisturiser with SPF 15 
120ml, RRP $15.00 
Deeply nourishing, this every-day moisturiser with SPF15 is and packed with  nutrients like Vitamin E, and Grapefruit Seed Extract to promote skin elasticity, treat  dryness and keep the skin's natural oils in balance. Natural oils such as Tangerine, Bergamot, Linseed Oil and Seabuckthorn Oils are included for their dual anti inflammatory and antibacterial properties. 
Woodsman Skincare Wild Rum Hand Wash 
200ml, RRP $10.00 
The Wild Rum Hand Wash smells woody and fresh, designed to keep hands squeaky  clean without drying them out. Includes natural oils like Argan Oil, Coconut Oil and  Avocado Oil as well as Vitamins E, D, B1, B2, B6, the Wild Rum Hand Wash is designed to keep hands moisturised and feeling silky smooth. 
Woodsman Skincare Wild Rum Body Wash 
200ml, RRP $13.00 
Infused with Woodsman's signature Wild Rum scent, this body wash is designed to be  your wingman in the shower, keeping skin hydrated and protected from wrinkling with  natural oils including Argan Oil, Coconut oil, avocado Oil and vitamins E, D, B1, B2, B6  and A for nourishment. The combination of oils helps to condition the skin, supporting skin  growth and repair of wear and tear after a hard day's work, whilst keeping skin smooth and  protecting it against cracking.  
The Woodsman range is retailed through 800 Coles stores, or via the Woodsman website. For  more information visit www.woodsmanskincare.com