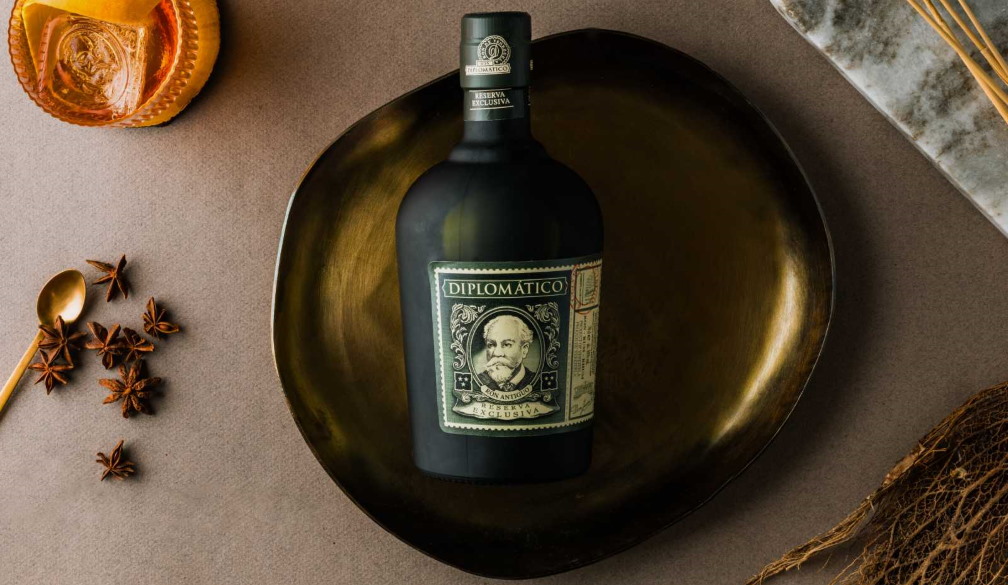 Completely new to the world of dark spirits? No fear! I envy you and your virgin taste buds...Tasting rum is an experience for all the senses, relying on the eyes, nose, and tongue specifically to celebrate the full-bodied flavour with every sip.
First things first, you'll want to observe the density of any rum you are about to bring to your lips. We do this through swirling the liquid around the glass, looking out for what is known as 'legs'. Legs should ideally run slowly down the sides of your glass; this indicates a dense blend that has been well aged and offers a higher alcohol content.
It's not time to sip just yet, your nose needs a second to make the rum's acquaintance. We smell rum in order to pick up the initial aromas that may offer a point of difference once it later hits the tongue. With the premium Diplomático Reserva Exclusiva for example, one may detect hints of orange peel, toffee, and liquorice, and you can then start to build a better understanding of the blend itself. It's important to keep your distance when smelling a quality rum; no need to get as close you might with wine.
Finally, tongue meets rum, but surprisingly, it's not the first sip you need to focus on, it's the second. Your first sip is merely the acclimatizer; because the alcohol content in rum is quite high, your palate has to be prepared before it can interpret the tasting notes properly. Swirl a first small sip of rum around your tongue for roughly six seconds, then swallow. Now you can indulge in a second more generous swig, and really get a feel for what the spirit has to offer.
Seasoned rum drinkers will tell you to always take a moment to appreciate the body and consistency of the liquid you've just encountered. A rum that leaves something behind on the palate after being swallowed, is a rum that was properly made. At this point, one can generally tell if the rum has been made using natural or artificial flavouring. You might not be at this stage of your rum drinking journey just yet, however it's interesting to learn that natural notes linger for longer, and authentic perfumes cling to the body of the spirit. It's the replica rum versions that tend to quickly fade.
A question that often comes up for rum tasting beginners is how to best serve your dark spirit. There is no right or wrong way to drink rum! This is the beauty of the beverage and what makes it such a well-loved liquor around the world. Experienced rum drinkers often enjoy their blends neat, as their palates are fully immersed in the product (a vintage product no longer overwhelming to them). Those with less experience may still opt for the straight serving, but I recommend you gravitate towards the younger, gentler rums as a starting point.
Now that you're armed with all this info, you're ready for your very own at-home rum tasting! How you go about orchestrating it is up to you, invite a few friends around, or pop on some soulful tunes and enjoy the tipple yourself. Time to discover and delight those senses.
There is no ideal time of day to enjoy rum, though for a considered tasting, it's better to have a clean palate to really allow for the notes in each individual blend to come forth with full impact. Have a few snacks on hand as well to help neutralize the palate (and line the stomach). The best nibbles if you're sipping straight include: crackers, bread, cheese, chocolate, tortilla chips and pineapple slices.
Happy tasting!
CLASSIC COCKTAILS
Sidecar
Diplomático Reserva Exclusiva
Originally a cognac-based cocktail which was named after a motorcycle accessory and is thought to be created in London or Paris, circa 1920's. We suggest this twist with Diplomático Reserva Exclusiva, incorporating pleasant flavors to the palate thanks to the hints of orange that contrast nicely with the bitter from the lime juice.
To give it a different tone, you could add equal parts of half sugar and half salt to the rim of the glass.
Ingredients
50 ml Diplomático Reserva Exclusiva

15 ml Cointreau

20 ml lime juice
Glass
Ice
Method
Add ice and all ingredients to shaker, shake and strain then pour into glass.
Garnish
About Diplomático
Diplomático is a rum passionately crafted by Maestros Roneros, using their expertise in combining modern and traditional distillation methods to produce exceptional rums for demanding palates. Every drop is infused with a rich and treasured heritage that comes from our heart and reaches to yours.
Diplomático is an independent, family-owned brand that controls the whole process from field to bottle to create superb quality rums with an ethical ethos. The distillery, located at the foot of the Andes Mountains in Venezuela, is unique as it houses three different distillation processes within which when combined, delivers unique rums such as the award winning Reserva Exclusiva.
We put people first in everything we do, and strive to create a Diplomático community around the world that reflects our values and commitments.
By Sai Hamsala, Asia Pacific Brand Ambassador for
Diplomatico Rum